The Shrewsbury Club excited to join I Am Team GB celebrations
As the 2016 Rio Olympics draws to a conclusion, an exciting initiative to honour the outstanding success of Team GB by holding the nation's biggest ever sports day is to be celebrated in Shropshire.  
The Shrewsbury Club will host its own special event as part of the I Am Team GB celebrations next Saturday, August 27 - with 500 pairs of free tickets for Shrewsbury Town's home match against Gillingham available to people taking part.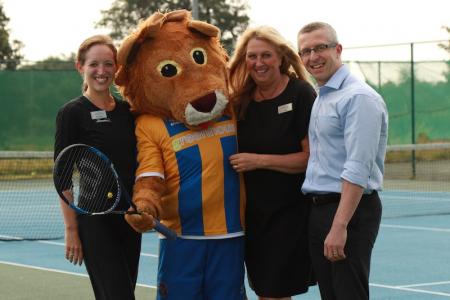 Qualified, friendly coaches will help families try tennis, football, rugby and cricket at the Sundorne Road venue from 9.30am. It's free to take part in the sports day, with the added bonus of Shrewsbury Town's community team handing out adult and junior tickets for the Greenhous Meadow clash with the Gills later that day. 
I am Team GB is backed by ITV and The National Lottery - who fund many of the British athletes that have competed so impressively at the Olympics in Brazil - with activities planned across the UK in a move designed to get people involved in sport. 
ITV will be shutting down its entire network for one hour from 9.30am to celebrate the role the nation played in Team GB's success through the support they give elite athletes by playing The National Lottery.
Alvin Ward, the general manager of The Shrewsbury Club, said they are delighted to be supporting the initiative, with lots of sporting fun lined up for people of all ages. 
He added: "We are going to run a whole series of activities at The Shrewsbury Club throughout the morning from 9.30am. There will be football and tennis camps, rugby and cricket too, so anybody and everybody can come here and join in an activity, either on the tennis courts or outside on our sports field. 
"The first 500 people to register to take part in an activity will receive a pair of adult and junior tickets for the Shrewsbury Town v Gillingham game the same afternoon, so it's not only a great chance to get active, but you can also go to the match for free.  
"We will also have our fun Tennis Factory equipment at the Greenhous Meadow family zone ahead of the Gillingham game, so people can also have a go there. 
"This event is a great way to celebrate all that's great about the Olympics and it ties in nicely as it's between the Olympics finishing and the Paralympics starting, so it's a perfect opportunity for people who have been inspired by the Olympics to come along and give sport a try." 
Dave Courteen, the managing director of The Shrewsbury Club, said he was delighted that Shrewsbury Town will be involved with the event.  
"Shrewsbury Town's a great partner for us because they're a great community football club who really look to engage local people," he said. "It's not just about what happens on the pitch on a Saturday afternoon, it's about getting out and running a huge number of activities, so we're very pleased they will be coming along and giving away so many match tickets. 
"We're a very family orientated club - just like Shrewsbury Town - running over 35 junior activity events through the week, so we feel that we are the venue in Shrewsbury for families that want to be active." 
Jamie Edwards, the manager of Shrewsbury Town in the Community, stressed the club are pleased to be supporting the I Am Team GB celebrations. He hopes lots of people will take part in the sports day at The Shrewsbury Club and take advantage of receiving free Greenhous Meadow tickets.
He added: "We'll have coaches there doing fun activities for the families and we're looking forward to handing out the ticket vouchers for the Gillingham game. As a club, if we can get people through the doors once, then hopefully they might come back three, four, five times during the season.
"I am Team GB is an exciting event and for ITV to close down their stations for an hour is such a powerful way of getting people out and about and playing sport, which is something that we always try and promote.
"We're delighted to link in with The Shrewsbury Club. The work they do with local schools with their tennis programmes is something that we can link in with and enhance what we also provide within schools.
"Our values of healthy living are the same, so it's really important that two organisations like ourselves are working together."  
To register in advance to take part in the fun sporting activities at The Shrewsbury Club on August 27 and claim the free Greenhous Meadow tickets for the Gillingham game, visit http://www.theshrewsburyclub.c o.uk/iamteamgb