Students raise over £1000 for charity with gruelling Mountain challenge
16th October 2015
... Comments
---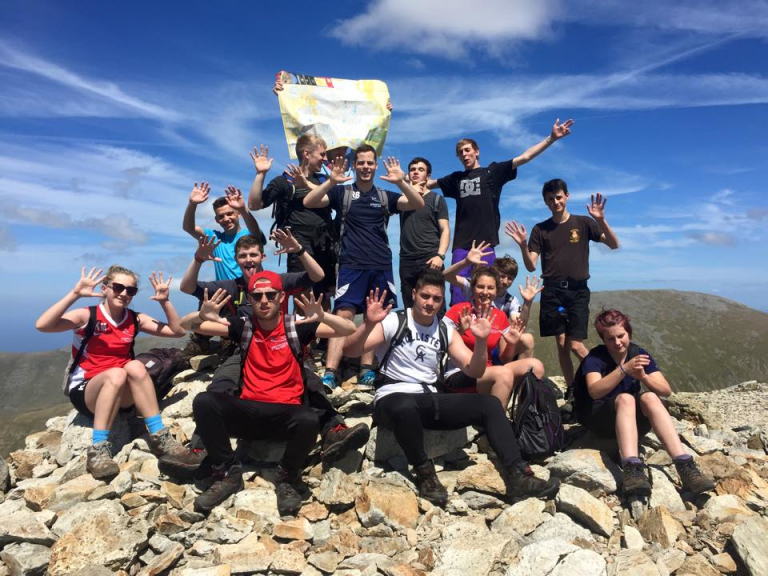 A group of daring students from Shrewsbury College have tackled a gruelling mountain challenge in Wales, raising over £1000 for an Oswestry-based water-sports club.
The Welsh 3000s known as "the big step up from the "Three Peaks Challenge", involves reaching all 15 mountain peaks that are over 3000ft high in Snowdonia.

The group of a dozen Outdoor Adventure students set themselves the tough challenge in attempt to raise the funds to provide a chairlift for disabled users at Shropshire Paddle Sport club, in Oswestry – where they regularly go canoeing and Kayaking.

Gareth Thomas, Outdoor Adventure tutor, said: "The students really did set themselves a difficult challenge, which is only to be attempted by confident and experienced mountain walkers. We did a lot of mountain walking in preparation. The students took on the challenge themselves, with myself and fellow lecturer Simon Edwards on standby with radio communications at the bottom. It really did rely on them working together as a team and using the skills of co-ordination, compass/map reading and survival techniques they had learnt throughout the course."

The challenge saw a dramatic turn for the worse when the group reached the eighth peak, Pen Yr Ole. The students were called down by the tutors, via the radio, due to the 70mph winds, lack of visibility and sideward rain. Fortunately the students' sheer determination to complete the challenge and raise the funds, saw them return two weeks later to finish the final seven peaks. 

Outdoor Adventure student, Tom Goodyear, 18, from Shifnal, said: "When we were called down by the tutors we couldn't see a thing in front of us and we couldn't really hear the tutors on the radio! But we were all really angry and upset that we had to stop. Our spirits were really low at this point and we all felt like we'd failed, but we knew the tutors did the right thing by calling us back because the conditions could have been deadly.

"We decided pretty much straight away that we were definitely going to return and complete the challenge and the weather was much better when we returned. We took a photograph in the same spot of where we left and the difference between the two pictures was shocking to see."

Fellow student, Katie Perkins, 17, from Shrewsbury, said: "When we completed the challenge it was extremely emotional. We were relieved, tired and proud of each other. The whole challenge brought us all close together we really did have to work as a team and spur each other on, especially in the bad weather - It was a huge challenge!

"The nature of the course and the Welsh 3000s in particular really develops you as a person and you have to learn to take responsibility in extreme situations. I think it's safe to say we've all matured a lot on this course. I wake up every day excited about coming to college because we are always doing an exciting activity – how many students can say that?

"We are proud that we've not only completed this really difficult challenge but that we've also exceeded the target we wanted to raise for Paddle Sport."

Tutor, Simon Edwards, said: "We are extremely proud of the students. We can visibly see how the challenge has changed their behaviour and attitude towards team work. It's great that the students have managed to hit their fundraising target and we are proud to support Paddle Sport in Oswestry, who we work very closely with."
The students and tutors are already considering their next big challenge…

For more information about Outdoor Adventure Courses at Shrewsbury College, please call 01743 342411 alternatively you can come along to the Open Evening on Thursday, 12 November, from 5 – 8pm at London Road.