Spring into action - play croquet!
20th March 2019
... Comments
---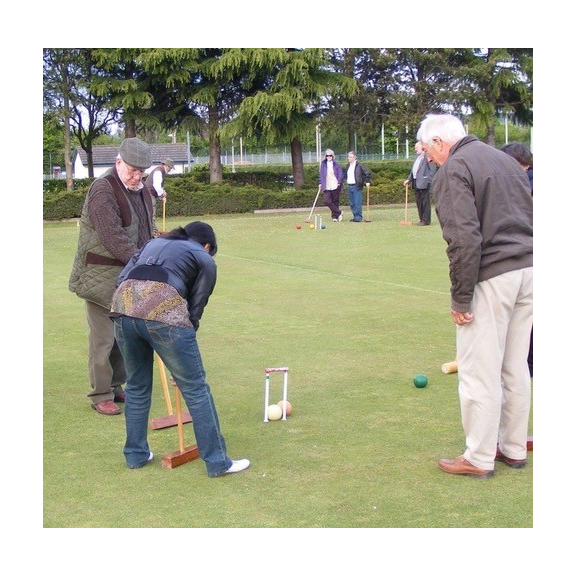 Despite Storm Gareth'sbest efforts, Spring is bursting into action and spurring everyone to consider enjoying the health benefits of outdoor activities. Government, local councils and health authorities are all encouraging people to become more active and take up a wide variety of exercise ranging from cycling, walking or more strenuous sports. In Shrewsbury, Shrewsbury Croquet Club is getting ready for the start of the new season in April and encouraging more people to discover the joys of playing croquet using the excellent facilities at Monkmoor Recreation Ground. It's a sport suitable for all ages and gender and one of the very few competitive sports that players of all types can play on equal terms. Though it may seem like an easy game, the mental clarity, focus and precision required to be successful might surprise many people. And the health and fitness benefits are tremendous too!
A 2011 study found that outdoor exercise is associated with greater decreases in poor mental and physical health when compared to indoor activity. A 2010 study found that just 15 minutes of exercise in green space can improve mood and self-esteem.  Playing croquet offers gentle but effective low impact physical exercise whilst providing mental and intellectual stimulation, with a major social component where many friendships and even friendly competitive rivalries can be made. Croquet encourages a positive attitude, an excellent means of stress relief and the opportunity to share the laughs and sociable camaraderie with other croquet players.
Shrewsbury Croquet Club, based at Monkmoor Recreation Centre, is preparing for the various local and regional competitions which start in April. The winter months have enabled improvements and refurbishment to be carried out to its double lawns which are maintained in a pristine condition with help from the local council and from members. With around 30 members, the club is keen to attract more new players and joining could not be easier.
"Prospective players can come along either to a club afternoon, held on the first Wednesday of each month from April, or indeed at any time during the day or evening and chat to existing members about the game and about taking up the sport." said Barbara Edwards , Club Secretary and chief coach. "We offer training and introductory playing sessions for beginners and full use of the club facilities and equipment, including club mallets. You just need a pair of flat soled shoes and a willingness to give it a go. Our first club afternoon is on Wednesday, 3 April 2019, starting at 2pm and all are welcome."
She added," We play both Association and Golf croquet and matches can be as short as 1 hour or longer. It's really enjoyable and a fantastic way to spend a pleasant morning or afternoon or even evening."
So why not celebrate the advent of Spring by springing into action and trying croquet? For more information, see the club website www.shrewsburycroquet.org.uk or contact club secretary Barbara Edwards on 01743 761237.