Shropshire Handmade and Vintage Christmas Fair declared a 'fantastic success'
Last weekend's Shropshire Handmade and Vintage Christmas Fair hosted by Shrewsbury-based caravan, motorhome and campervan dealership Salop Leisure was declared a "fantastic success", with nearly 11,000 visitors flocking to the two-day event.
A bumper weekend
Organiser Carrie Hughes, owner of Shropshire Handmade and Vintage, promised an even bigger and better event and she kept her word as the 60 stallholders enjoyed a bumper weekend of business.
The stalls sold a wide range of unique handmade and vintage craft and giftware as well as food from Shropshire and the bordering counties, as the fair filled Salop Leisure's showroom and extended into sister business Love Plants' building next door. Entry was free and extra parking had to be arranged due to the huge attendance.
Supporting local businesses
"My business ethos is to support small local businesses by providing a successful trading place for them and I think this was probably my most successful event to date" she said. "From the minute the fair opened on the Saturday and Sunday, it was very busy until we closed at 4pm and some traders were literally sold out.
"People came to spend, enjoy the atmosphere and visit Santa's grotto. All the traders are local to Shropshire and its borders, my company is local, Salop Leisure is based in Shrewsbury and most of the people who came to support us live locally. Ultimately, that was my goal: to support Shropshire traders.
"We have had some lovely feedback which makes all the hard work worthwhile."
Outstanding success
Salop Leisure's chairman Tony Bywater said the event was an "outstanding success" and the attendance surpassed expectations, with more than 200 children visiting Santa's grotto and a record number of Christmas trees sold by the company's specialist plants centre, Love Plants.
"We were amazed by the number of people who attended the fair over the weekend," he added. "The trend throughout the year has been for more and more people to visit our business, which has become more than a place to buy caravans and motorhomes; it's now a tourist destination."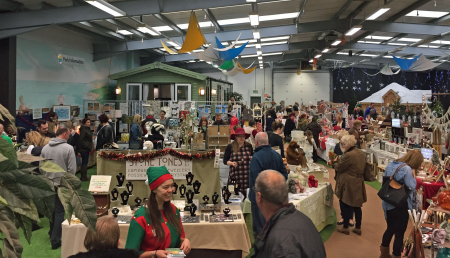 Pictured above: Busy trade at Shropshire Handmade and Vintage Christmas Fair.
Continuing to grow
He continued: "Our Love Coffee restaurant is a popular meeting place for people from the Midlands and Wales, Love Plants is now one of the most respected specialist plants centres in Shropshire and our accessory department is packed with all sorts of gifts.
"We are sure that the investment we are making in a new touring and glamping resort, Love2Stay, on neighbouring land will continue this trend in the coming year."
Santa's grotto will be open every weekend until Christmas as well as every day in the week leading up to December 25.