Shropshire Drama Company commissions Shrewsbury musician
25th September 2015
... Comments
---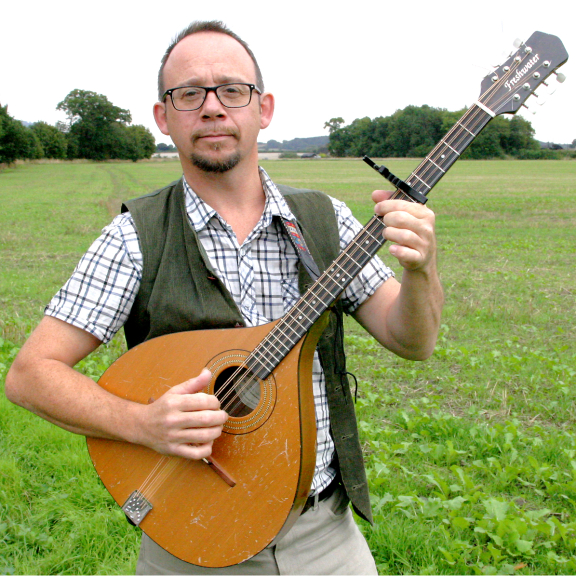 A Shrewsbury musician has just completed a commission from Shropshire Drama Company (SDC), to write and arrange four pieces of music for its forthcoming production of William Shakespeare's As You Like It, which takes place at Theatre Severn from 28 to 31 October. 
Adam Beresford-Browne, who will also be playing the role of Amiens in As You Like It, is an accomplished multi-instrumentalist, well known on the local music scene and as a workshop leader at a number of folk festivals throughout the country, including Shrewsbury's own annual event.  He is also a front person to five-piece folk ensemble Midswégan.
His compositions use the original words from It Was A Lover And His Lass, Blow Blow Thou Winter Wind, Under The Greenwood Tree and What Shall He Have That Killed The Deer?, the most songs in any Shakespeare play. Originally written on guitar Adam will sing and play a mandola during the performances. Other members of the cast will join him for an a cappella version of What Shall He Have That Killed The Deer?, which was co composed by Karen Dyson from established folk trio The Bailey Sisters.
Commenting on the process and his approach, Adam Beresford-Browne, said: "This very interesting commission has added to my knowledge and understanding of music from that era. For example, Shakespeare's contemporary Thomas Morley composed and arranged music for It Was A Lover And His Lass and although I considered adopting Morley's style across all four compositions, I felt SDC required a revised collection. As a result we have four original songs in a folk style, with strong melodies that are easy to pick up and repeat, but where appropriate contain elements of crashing tankards and ale house bawdiness."
Adam Beresford-Browne performs It Was A Lover And His Lass on YouTube.
Performances start at 7.30pm and tickets for As You Like It at Theatre Severn are £16/£14 (concs) which includes a £1 booking fee and available through the theatre's box office on 01743 281281 or online.