Shropshire cyclists inspired by late friend to Ride the Night
A team of six women from Whitchurch completed the 100 kilometre charity Ride the Night 2016 from Windsor Racecourse to London and back at the weekend in memory of a friend who died from ovarian cancer in April.
A charity challenge in tribute
Anna James, Sharon English, Tricia Bridgewater, Dr Ruth Clayton, Nicola Rogers and Vicky Taylor, who formed the team Deb's Mates, took on the challenge in tribute to Debbie Barlow, a mother of two who died aged 49.
The team, aged from 58 to 39, has raised in excess of £2,500 for Ovarian Cancer Action, having previously raised the same amount for the charity since forming a Whitchurch Community Group in March.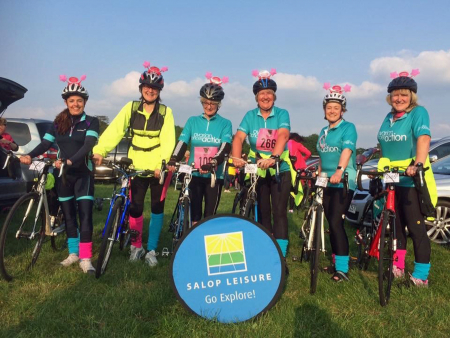 Picture: Deb's Team (from left) Sharon English, Tricia Bridgewater, Ruth Clayton, Anna James, Nicola Rogers and Vicky Taylor.
Debbie's legacy
When she was diagnosed five years ago, Debbie decided to start cycling and raise funds. Other than Ruth, who already cycled, the rest of the team had not been on a bike since childhood.
The team was spurred on by the fact that Debbie completed last year's Ride the Night while undergoing chemotherapy.
Anna praised Debbie's courage throughout her illness and said she remains an inspiration to the team. "She took up cycling when she became ill and she even did a charity cycle ride in Cuba," said Anna. "If it wasn't for Debbie, we wouldn't have taken up cycling. We now meet every week and feel a lot healthier for it."
Night riders
Anna continued: "With all the stops and traffic, it took us seven hours to complete the Ride the Night and, after Debbie's achievement last year, there was no excuse for us not to finish.
"We had been training for about a year and had ridden distances of up to 50 miles, which was about 15 miles less than Ride the Night. But we all really enjoyed the ride and were able to ride six abreast up The Mall towards Buckingham Palace as the road had been closed to traffic.
"There were a few tears when we crossed the finish line as we all felt an incredible sense of achievement."
The silent killer
Anna has a particular interest in supporting cancer charities, as her twin sister, Liz Baxter-Harries, died from breast cancer 18 years ago at the age of 40. She completed a charity cycle ride around Whitchurch at the time and had not been back on a bike until she began training with Deb's Mates.
"I have learned a lot about cancer since my sister died and, whilst there is greater awareness of breast cancer nowadays, ovarian cancer remains the silent killer because there are so many different symptoms that can be mistaken for other things," she explained.
"Our community group for Ovarian Cancer Action aims to raise awareness and money for research. Our next event is a ladies' lunch in a marquee at Dearnford Lake, Whitchurch in September, which we hope will raise more than £3,000 for the charity."
Salop Leisure sponsors
Anna, who took early retirement as a solicitor two years ago, now works as legal consultant for caravan and motorhome dealership Salop Leisure in Shrewsbury, who sponsored her charity ride.
Company chairman Tony Bywater praised the "fantastic achievement" by Anna and her teammates and said the money raised was going to very good causes.
Ride The Night is hoping to raise £1 million and supporters have a further four weeks to make donations. The money will go to Breast Cancer Care, Ovarian Cancer Action and Jo's Cervical Cancer Trust.