Shrewsbury's Lauren McMinn through to doubles final as singles reaches last four stage
British interest in the singles at the $10,000 Aegon GB Pro-Series tournament ended at the quarter-final stage - but today's doubles final at The Shrewsbury Club will be an all British affair featuring home town player Lauren McMinn.
Shrewsbury's McMinn, 23, a club member, impressively teamed up with Gloucestershire's Alicia Barnett to beat Aleksandra and Katarzyna Pitak 7-6, 7-6 in an exciting semi-final last night.
They will now meet No 1 seeds Sarah Beth Grey and Olivia Nicholls - 6-4, 6-4 conquerors of Anna Popescu and Francesca Wilkes in the other semi - at the Sundorne Road venue in this afternoon's final which will begin at 4.30pm. It will be the local player's first appearance in an ITF final.
Happy McMinn said: "I couldn't think of a better place to be playing my first final to be honest. All week I've had people supporting me on the balcony which has been lovely. 
"I'm really excited and I just want to go out and play and see how it goes - we've got nothing to lose now." 
The doubles final will be the last match of what promises to be an exciting day's tennis, which starts at 11.30am with the opening singles semi-final between Petra Krejsova, from the Czech Republic, and Hong Kong's Ling Zhang, seeded four and five respectively.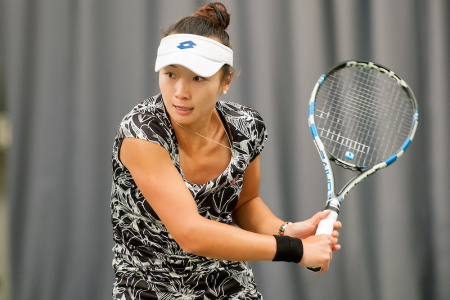 Ling Zhang, the No 5 seed from Hong Kong, who will take on Petra Krejsova in the opening singles semi-final at The Shrewsbury Club today. Picture by Richard Dawson.
Krejsova progressed to the last four with a 6-2, 6-1 victory over Bristol's Laura Sainsbury, a player more than 500 places below her in the world rankings, while Zhang knocked out Emmanuelle Salas, from France, in straight sets. 
It will be followed by the second last four clash between No 1 seed Tess Sugnaux and former Wimbledon semi-finalist Alexandra Stevenson, seeded six this week, after both advanced with victories over British players. 
Experienced American Stevenson knocked out doubles finalist Grey in three sets while Sugnaux, from Switzerland, was pleased with her performance in overcoming Maia Lumdsen 6-3, 6-4.
"This was my best day so far, so I'm happy," smiled Sugnaux. "I played solid so it's good - it's getting better."
Sugnaux is now looking forward to what will be a first-ever meeting with Stevenson. 
She added: "She was 18 in the world so for sure she's a really good player, but I will try to enjoy to play against this kind of player and hope it will be fine."
There is again free admission to enjoy today's tennis at The Shrewsbury Club with spectators able to watch the action from court-side stands.