Shrewsbury solicitors say fond farewell to Penny
1st September 2015
... Comments
---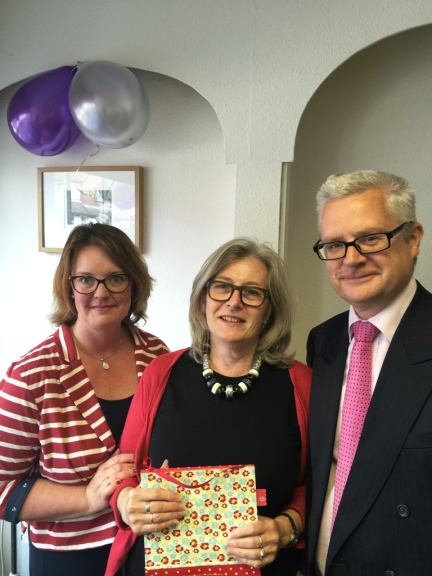 A Shropshire firm of solicitors has said goodbye to one of its longest serving members of staff following over 20 years of dedicated service.
Penny Chambers is retiring from PCB Solicitors where she has worked at the firm's Church Stretton office since joining over two decades ago.   
Following 13 years as Personal Assistant to the practice's now Managing Partner, Penny has spent the latter years working within the Residential Property department as a Legal Assistant, supporting Chartered Legal Executive Nicola Pugh and the rest of the Church Stretton team with all matters relating to Residential and Agricultural Conveyancing. 
To mark Penny's well-deserved retirement, the firm held a special celebratory lunch event at the Church Stretton office where partners gave her a magnolia tree and vouchers for The Harbour Master in Aberaeron. 
Rachael Hughes, Managing Partner at PCB Solicitors, explained:  "Penny has been a hugely-valued member of the team here at PCB Solicitors for the past 20 years and she will be sorely missed by us all.   Everyone wishes Penny the very best for a long and happy retirement, and we offer our heart-felt thanks to her for the commitment and dedication that she has shown the firm, her colleagues, and our clients over the years." 
Penny commented: "I have enjoyed a wonderful and fulfilling career at PCB Solicitors and have made some fantastic friendships during my time here.  I am proud to have seen the firm grow and develop over the years and to have been part of a team whose people and clients are at its heart, and I will miss everyone very much."  
For further information about PCB Solicitors' complete range of legal services, please contact the Shrewsbury Head Office on 01743 248148 or visit the website www.pcblaw.co.uk.