Shrewsbury show aims to make caravan and motorhome ownership dreams come true
Ever dreamed of owning a touring caravan, motorhome caravan holiday home or VW Campervan conversion to make the most of your holiday and leisure time? An exciting 10-day show in Shrewsbury next month is designed to make your dream become a reality.
Customers will get their first glimpse of the latest innovations for 2017 at the West Midlands Caravan and Motorhome Show, from October 1-9.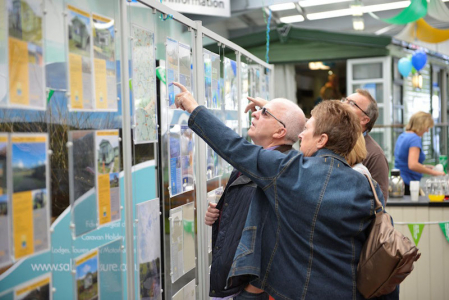 The popular annual show, which includes family entertainment, will launch a series of new models at Salop Leisure's impressive sales centre and holiday home village based alongside Shrewsbury bypass at Emstrey.
The free event, which attracts thousands of visitors from across the UK, aims to be a one stop shop for existing owners and first time buyers wishing to invest. This year's show is a special occasion as it marks the 50th birthday of Salop Leisure, the company having been established in Shrewsbury in 1966, the same year as England won the football World Cup.
Around 65 new caravan holiday homes and a luxury lodges, ranging in price from £23,995 to £110,000, will be on display, including the new Willerby Wrekin, which has been exclusively made for Salop Leisure and contains a series of attractive extra features. Free delivery on the remaining 2016 caravan holiday homes will be available throughout the show, saving customers more than £2,250.
Thirty new touring caravan and motorhome models from Swift, Sterling, Sprite and Bessacarr, with prices starting £15,740, will also be unveiled. Another exclusive launch is the Swift Celeste, a new model designed for Salop Leisure and based on the popular Swift Challenger, with significant extra features added by the company for attractive price of £21,295.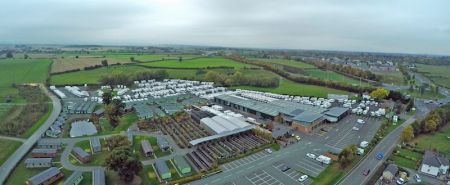 For those keen to invest in a new touring caravan or motorhome, Salop Leisure is offering free delivery, worth around £550, for the duration of the show. A good choice of pre-owned touring caravans will also be available from £6,995 and purchases include a free Cadac barbecue and accessories, valued at up to £299. There will also be a five per cent saving on all awnings costing £500 and above.
VW T6 and T5 Campervan conversions by Autohaus, which have proved extremely popular since arriving at Salop Leisure earlier this year, are certain to attract keen interest from enthusiasts who are prepared to travel long distances to buy their dream model. 
In total there will be in excess of 250 new and pre-owned caravan holiday homes, touring caravans, motorhomes and VW T6 and T5 Campervan conversions to choose from and an extended accessory superstore with price reductions on many lines.
A team of experts will be on hand to guide first time buyers through the complete caravan ownership process, whether it's a touring caravan or holiday home and flexible finance packages are available.
This service also includes helping buyers to find the ideal park location for their caravan holiday home in the Heart of England, inland Mid Wales or the Mid Wales Coast. Buyers can also pay a visit to the park finding zone, where owners and managers from more than 20 top quality parks will be available to provide information in individual marquees.
Family entertainment includes a falconry display by UK Hawkeye on October 1 and 2, a children's disco dome on October 1, 8 and 9, a climbing wall and face painting. Popular children's TV characters Peppa Pig, Olaf and the Minnions will also be visiting the show over both weekends to entertain the children. Donations received for complimentary tea and coffee during the show will go to Wales Air Ambulance. 
"This is our big end of season show to launch the stunning new models for 2017 and we are confident that visitors are going to be impressed by what they see," said a spokesman for Salop Leisure. "It's a great place to discover the latest innovations in caravan holiday homes, touring caravans and motorhomes and there's always lots going on to keep families entertained.
"We are fortunate to work with leading caravan and motorhome manufacturers and the top caravan parks in Mid Wales and the Heart of England, which are among the best in Europe." 
Research undertaken by the company this summer has revealed that customers value the total freedom offered by caravan, motorhome and campervan ownership. The return of confidence to the economy is encouraging families and couples to invest in spending more quality time together.
"It has been another great year for sales across our range of products and we have welcomed around 20 per cent more customers this year than in the same period in 2015, which can be attributed to the growing popularity of caravans, motorhomes and campervans and our investment in increased regional marketing. 
"We have definitely seen more first time buyers, as customers of all ages have recognised the value of investing in their leisure time. Staycationing is having a significant impact on customers' holiday decisions, with many now choosing to take their vacations in the UK rather than flying abroad because of the risk of terrorism and the reduced value of Sterling against other currencies.
"We are also finding that people, who now have access to their pension funds at an earlier age, are choosing to invest some of their money on a caravan holiday home or luxury lodge, which they can share with their family. Customers, both young and old, enjoy getting away for a short break or holiday anytime and anywhere they please.
"Young families, in particular, are working harder than ever and they want to spend quality time together at weekends and during holidays. They like the fact that caravan ownership gets children out in the countryside enjoying the fresh air and away from the television and computer games." 
Throughout the show, the popular Love Coffee café/restaurant will be serving up delicious snacks, meals and drinks and staff at specialist plants centre, Love Plants, will have a wide selection of plants and advice to offer for autumn, winter and spring gardens.
Admission to the show and parking are free and tickets are available to download at www.caravanevent.co.uk.