Shrewsbury people encouraged to get active on National Fitness Day
Fitness instructors from a Shrewsbury health club encouraged local people to lead more active lives by running free classes around the town on National Fitness Day.
Celebrating exercise
Staff from The Shrewsbury Club swapped their usual fitness studios to visit well known Shrewsbury landmarks to stress the importance of regular exercise.
They joined thousands of people across the country in supporting the third annual National Fitness Day, powered by ukactive, to celebrate physical activity.
Michelle Read, the studio co-ordinator at The Shrewsbury Club, said: "It was an ideal opportunity to make people aware of the importance of regular exercise."
Beautiful Shrewsbury
She continued: "Shrewsbury is a beautiful town with many iconic landmarks and this was a landmark day for fitness, so we wanted to take classes around the town. It was nice to move outside the club for a day and encourage people to take part.
"Being at different locations around the town meant that people were able to see what we were doing with the different activities."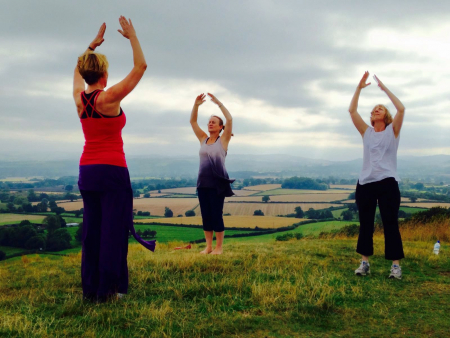 Pictured: An NIA fitness class took place at Lyth Hill Countryside Site, near Bayston Hill, as part of The Shrewsbury Club's free programme of classes held around Shrewsbury on National Fitness Day.
Iconic venues
The fun classes started with Aerobics in the grounds of Shrewsbury Castle followed by a Yoga session held by the Charles Darwin statue in front of Shrewsbury Library.
Then came a lunchtime Zumba class at the bandstand in the town's Quarry Park and a 30-minute high-intensity interval training workout next to the Quantum Leap statue on Mardol Quay.
The day's events concluded with a NIA fitness class at Lyth Hill Countryside Site, near Bayston Hill, which also offered panoramic views of the south Shropshire Hills, The Wrekin, Wenlock Edge and the Stiperstones.
Worldwide participation
The Shrewsbury Club, on Sundorne Road, also invited non-members to use its excellent facilities for free during National Fitness Day, which coincided with the start of the Paralympics in Rio.
More than 18,000 fitness events were held around the country at 6,000 locations. National Fitness Day was the top trending item on social media in the UK, with the total audience reach surpassing 48 million on social media alone.
The day attracted much media coverage while a celebration event at the Houses of Parliament featured a National Fitness Day takeover of the green parts of the Westminster estate with a host of activities held. Sports Minister Tracey Crouch was among the MPs to take part.