Shrewsbury MP drops in to meet Santa at Salop Leisure
14th December 2012
... Comments
---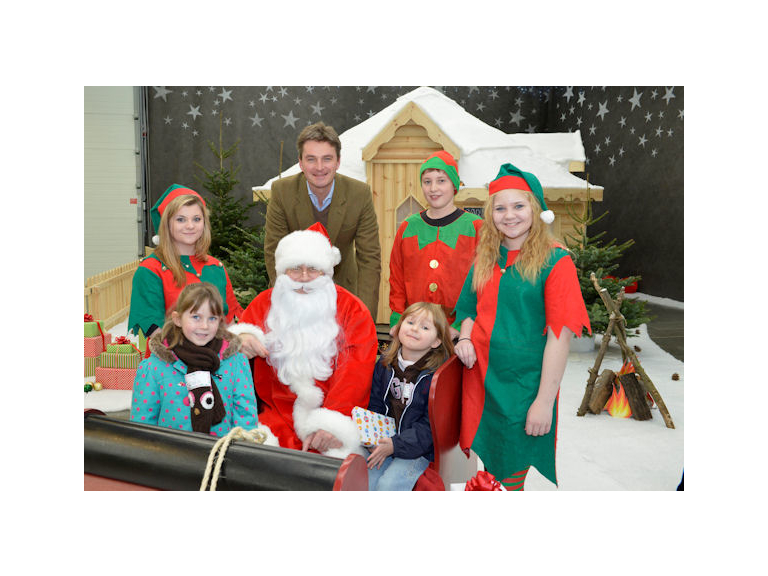 Shrewsbury and Atcham MP Daniel Kawczynski and his daughter Alexis have been among the hundreds of visitors to the popular Santa's grotto at caravan dealership Salop Leisure.
"What a magical grotto!" said the MP. "Alexis and I had a great time meeting Santa and his helpers at Salop Leisure."
Mr Kawczynski and Alexis (seated front right) are pictured with Jorja Burroughs meeting Santa and his elves outside grotto, which is open every weekend from 10am to 4pm in the run up to Christmas as well as from 10am to 3pm on Christmas Eve.
"Christmas is a magical time of year for children and we have transformed our sales centre in to a winter wonderland," said chairman Tony Bywater. "Rather than closing up in December like some in the caravan industry do, we aim to welcome hundreds of young families to Santa's Grotto during the month."
Last week, a group of children from a Shrewsbury nursery had their Christmas wish granted when they had lunch with Santa Claus. Salop Leisure invited Twyford Tots Nursery in Shrewsbury to bring 10 children and their parents to meet Santa in his grotto and then have lunch with him at the company's Love Coffee restaurant.
The children were each given a Christmas present and had their photo taken with Santa.
Twyford Tots Nursery owner Karen Edwards said: "The children and their parents absolutely loved their visit to meet Santa at Salop Leisure.
"While each child and their parent went in to see Santa in his grotto, I took the others into the caravans on display and we went on make believe holidays to Lapland and a safari park to see the reindeer. The children were so excited and we all had a great time."
For more information, please contact Mr Tony Bywater, Salop Leisure chairman, on 01743 282400.