Shrewsbury College students receive inspirational advice from industry professionals
5th March 2015
... Comments
---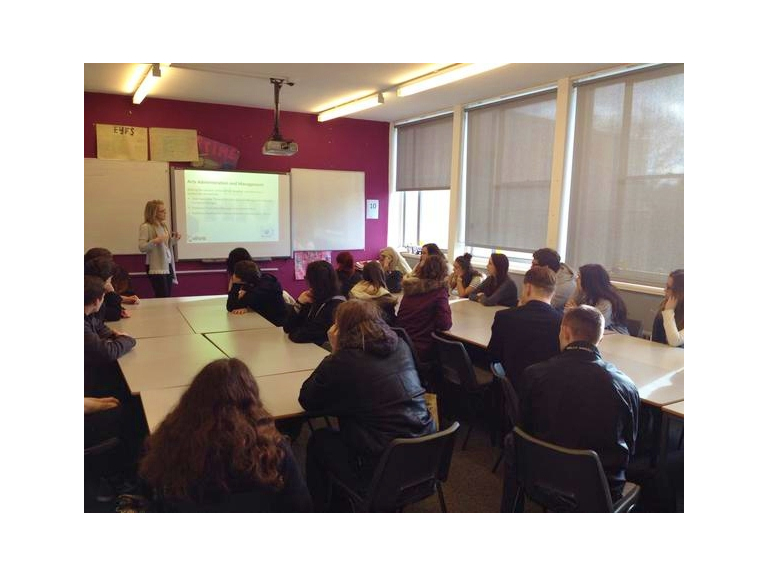 Shrewsbury College hosted its annual 'Careers Week' with the aim of inspiring and preparing students for the world of work.
Over 20 speakers from a variety of businesses and industries from across Shropshire, including,  The Shrewsbury Club, ISS, PaveAways, The Hive, Salon Ten, Greenhous, Catapillar, and BBC Radio Shropshire, were invited in to the College to talk to the students about their experiences and career choices.
James Bond, Sports Editor at BBC Radio Shropshire attended the event, with afternoon radio presenter, Adam Green. James said: "We hope that, if nothing else, the students in our group will go away with the thought in the back of their minds that they've got to grasp the opportunities that come their way – and that they can go some way to creating their own opportunities by using the university experience not just to broaden their education, but to broaden their lives."
Helen Hurdley, Operations Team Leader and co-ordinator of Careers Week, said: "We always receive great feedback from our students about this event. I think they really value the opportunity to hear from, and ask questions to successful people who are working in the industries they hope to go into.
"We work closely with a lot of local businesses and we value our partnerships and the support they give to the College and our students. I'd like to take this opportunity to thank everyone who was involved in the event, and we hope our students have taken away some invaluable information."
​
For more information about courses at Shrewsbury College, please call 01743 342411 or visit www.shrewsbury.ac.uk  Alternatively you can come along to our next Advice Event, on Thursday 19, March, 5 – 7pm.