Shrewsbury College Motor Vehicle Students take part in trip of a lifetime to Istanbul
28th February 2014
... Comments
---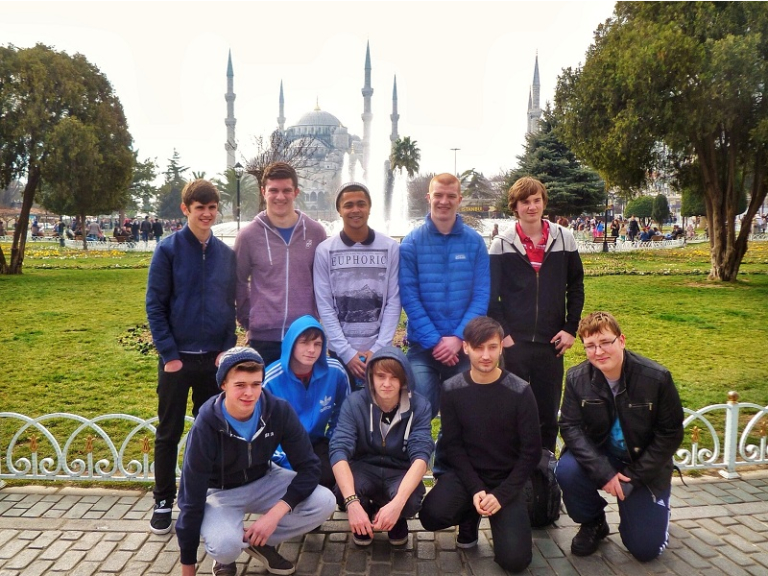 Motor Vehicle students from Shrewsbury College have been on the trip of a lifetime to work in prestigious car dealerships in Istanbul.

The group of 10 students took part in the two-week trip to BMW Land Rover and Renault.

The 10 students studying City & Guilds, Level 2 and 3, Motor Vehicle Technology, had to apply for the experience and be interviewed to take part.

Shrewsbury College Motor Vehicle Lecturer, Stuart Thomas, said: "The placement allowed students to assist with the repair, service and diagnosis of a range of high-end performance cars. They also got to experience the cultural sights, sounds and flavours of Istanbul.

"The students had to undergo an interview process to be selected, and to prepare for the trip they learned about Turkish culture and customs in a number of ways.

"It was an excellent way of enhancing their learning experience and exposed the students to a challenging and exciting working environment. The students were fantastic ambassadors for the college and many new friends were made.

Ben Palmer, 18, Motor Vehicle student from Shrewsbury College, said:  "We spent one week at Renault and the other at BMW Land Rover. It was really interesting to see how people in other countries work. It is great that the College gives students the opportunity to take part in this kind of project."

Daniel Wills, 19, studying the same course, said: "The trip was fantastic, a once in a lifetime experience. The language barrier was challenging to begin with, but we used Google translate which helped a lot, consequently we were able to make a lot of friends, a few of which I am still in contact with."

Shrewsbury College have been involved in this project for three years and hope to continue it in the future.

The trip formed part of the Leonardo Mobility Project, which supports UK vocational education and training organisations to work together with European partners to improve training, skills and employability.  It was funded by Erasmus+, the new European programme for education, training, youth and sport which replaces funding programmes run by the European Commission.

The College also featured in the latest edition 'Building for Erasmus+' magazine distributed to businesses nationally.

For more information about the range of Motor Vehicle courses please visit www.shrewsbury.ac.uk or call 01743 342333.