Shrewsbury College Higher Education students take part in annual graduation ceremony
6th July 2015
... Comments
---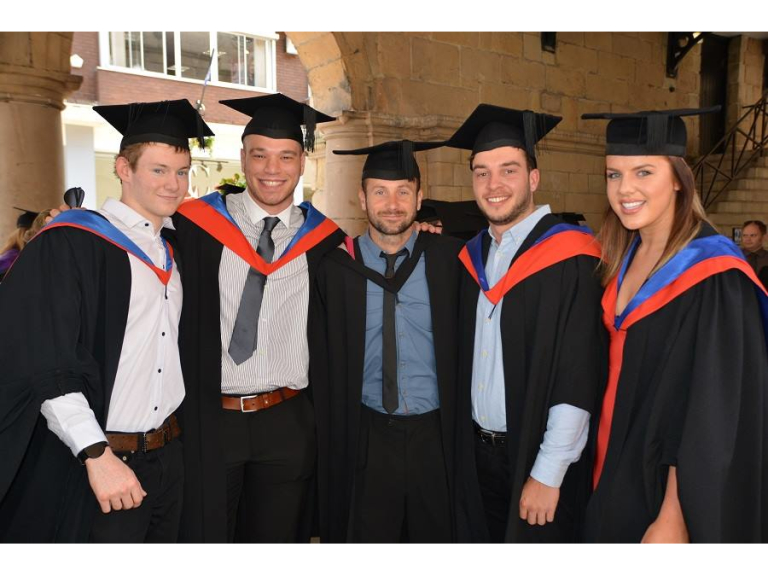 A line of mortar boards and graduation gowns made its way from Shrewsbury Market Square to St Chad's Church in the annual Shrewsbury College graduation parade on Friday (3.7.15)

This year, the College has seen 127 students graduate from a range of degree-level courses, with 90 students and tutors taking part in the parade and awards ceremony.

The parade processed from the Square in an array of traditional colours at 2.30pm led by the Mayor of Shrewsbury, Councillor Miles Kenny.

Students from Performing Arts joined together in song to celebrate the year's successes and to bid farewell to those graduating. They performed choral arrangements throughout the ceremony of well-known songs from West End productions, such as Les Miserables, Children of Eden and The Lion King.

The graduation ceremony in St Chad's Church started at 3pm and Dr Lynnette Turner, Pro Vice-Chancellor and Dean of Education at Edge Hill University, one of the College's affiliate universities, was the special guest speaker.

Dr Turner, said: "The Faculty of Education at Edge Hill University very much values the strong partnership with Shrewsbury College in relation to the Higher Education (HE) provision for training future teachers for the further education and skills sector. 

"This area of the university's work has twice now been awarded the grade of outstanding from Ofsted, making our partnership the only one to have achieved this outcome at a national level – something of which we are all extremely proud."

Steve Wain, Principal of Shrewsbury College, said: "We have been offering HE courses at the College for nearly 20 years. It's a fantastic achievement for these students to be graduating and the parade is a real rite of passage before they go on into their future careers."

The College expanded its range of HE courses in September and are doing so again this year, after receiving a bid for direct finance from the Higher Education Funding Council for England (HEFCE) for the first time.

Mr Wain, added: "Now that the re-development of London Road is complete, we have a great campus to offer our community. We have a dedicated HE learning Centre, the best outdoor sports facilities around and great Restaurants, Cafes, Conference spaces and a Theatre. All of these things enhance the Higher Education experience.

"There are many benefits of studying HE with us, including smaller class sizes, taught by lecturers with industry experience who have the opportunity to influence the development of programmes, excellent facilities and the ability to study around work and family commitments."

One HND Performing Arts student - Freya Rowlands, 20, from Newtown - who graduated, said:  "I studied at Liverpool University for a short while but didn't enjoy it, so I looked at options closer to home. I was told this was a great course that offered more in-depth training in the industry and after visiting the campus I was won over.

"Studying HE at the college in comparison to my time at Liverpool meant we got to work in smaller more intimate groups. It is cheaper than university and although I have taken out a student loan, which has been fundamental, I've still managed to work whilst studying and money is not as tight as it would be if I had moved away.

"I am about to be a mother, which can be a stressful time for a lot of parents, but studying whilst being pregnant has been surprisingly easy, the tutors and college have been very supportive. My hope for the future is to set up my own business teaching performing arts to children."

Also graduating at this year's ceremony was student, James Sale, 25, from Whitchurch, who completed HND Business before progressing to ABE Business Start Up and Entrepreneurship and topping up his degree at Staffordshire University, where he has just received a 2:2.

Mr Sale, said: "Being a student of Shrewsbury College has given me a lot of confidence on an academic level and has demonstrated to me that I am capable of achieving anything when I put my mind to it.

"I am very grateful to every staff member for encouraging me to push myself to achieving the high standard of work I have done throughout my years there. To be honest without the college I would have not been able to have gone to Staffordshire University to complete my business degree, for which I have recently completed and got a 2.2 overall."

To find out more about Higher Education courses at Shrewsbury College, pop in to the next advice event, on Thursday, 9 July, 5 – 7pm,  visit www.shrewsbury.ac.uk or call 01743 342411.