Shrewsbury based caravan dealership continues support for local cricket
9th July 2013
... Comments
---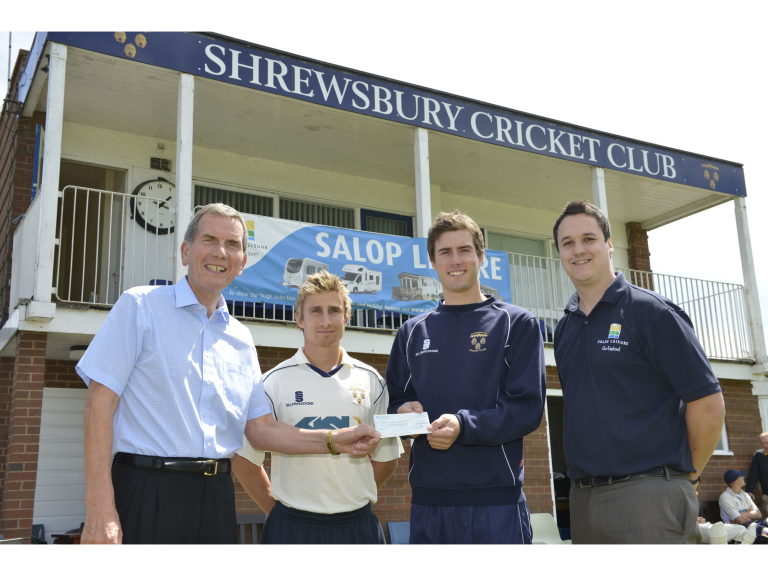 Shrewsbury-based caravan dealership Salop Leisure has renewed its sponsorship of high flying Shrewsbury Cricket Club and praised the contribution it makes to the sport in the county.
The Club
 
The club, winners of the Birmingham Premier League Premier Division and National Knockout competition champions in the past three years, fields three adult teams and has an impressive junior section, which has won national titles.
 
The first team has promoted 17-year-old Ed Barnard this season following a century for England Under 19s in South Africa this winter and club product Jimmy Taylor, an England test player, is going great guns for Nottinghamshire in the County Championship.
 
Joe Leach has played for Worcestershire in the County Championship this season and his Shrewsbury club mates Stephen Leach and Barnard are also signed for the county.
 
New captain Rob Foster, who has taken over from his brother, Ed, thanked Salop Leisure for its continued support. "Salop Leisure has been great to the club over the years and their continued support is greatly appreciated," he said.
Support from Salop Leisure
 
"We couldn't survive without the support we receive from the likes of Salop Leisure and to have a company of its size associated with the club is brilliant because it is known across the country."
 
Under Foster's leadership Shrewsbury are going strong on all fronts this season, currently topping the league, in the last 16 of the National Knockout 45 over format and last 32 of the 20 over format.
 
"We are playing quite well and I think we have the players to challenge for honours this season, but it's now a case of keeping our form going," he added. "A lot of the young players have grown up together and are capable of playing at a higher level."
Proud Sponsors
 
Tony Bywater, Salop Leisure's chairman, said the company was proud to be associated with the club, which is located near to the company's headquarters at Emstrey. "What the club achieved in recent years has been absolutely spectacular and their success has attracted tremendous publicity for Shrewsbury," he added.
 
"We support the club not only due to the success of the first team but because of the sterling work that it does to promote cricket in the county and to involve young people through the junior section."
 
The company also sponsors the annual Salop Leisure Knockout Twenty20 Trophy tournament, which is hosted by Shrewsbury Cricket Club. This year's tournament, which will involve the four top teams in the county, is scheduled for August on date to be confirmed.

For more information about leading Shrewsbury caravan dealership, Salop Leisure, please call 01743 282400.