Severn Hospice gets £2,000 early Christmas present from Salop Santa Dash
The Severn Hospice has received an early Christmas gift of £2,000 thanks to 300 Santas who took part in the first ever Salop Santa Dash earlier this month.
Lucy Ruff, Severn Hospice's fundraising manager, received the money at presentation ceremony held at Salop Leisure's Emstrey headquarters in Shrewsbury.
The Salop Santa Dash saw a sea of people of all ages dressed in Santa costumes cover a 2.5-kilometre course from Salop Leisure's Emstrey headquarters around the neighbouring Love2Stay glamping and touring resort.
Supported by Rybrook MINI Shrewsbury and Love Fitness, the fun run was just one of a programme of events and activities organised this year by Salop Leisure to celebrate Christmas.
"We are delighted that so many Santas turned out and supported the Severn Hospice," said Lucy. "A huge thank you is due to Salop Leisure, Rybrook MINI Shrewsbury and Love Fitness for their support.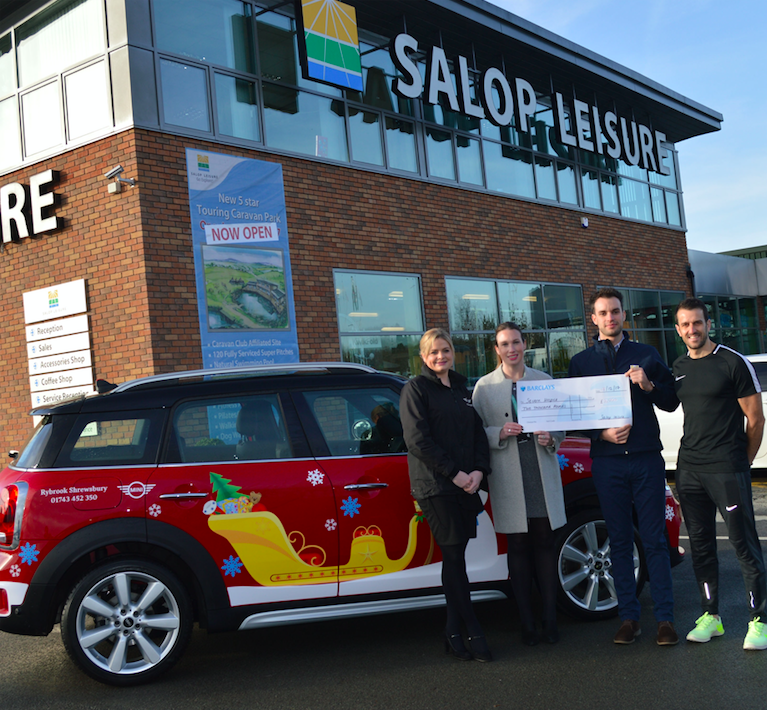 "The money raised will go towards caring for patients on the wards and at home at Christmas and throughout the year. We would love to be involved again in next year's event." 
Tom Meehan, from Love Fitness at Salop Leisure, said: "The support for Salop Santa Dash from local people was fantastic. It was great to see so many people, friends and families taking part to support Severn Hospice which is a charity close to so many people's hearts.
"We hope to attract 500 runners for next year's event when there will be a few more things going on at Love Fitness." 
Event organiser Ed Glover, Salop Leisure's marketing manager, thanked everyone who had made the fun run such a success. He said he was pleased with the amount raised for Severn Hospice and pledged to attract even more runners next December.
Severn Hospice needs to raise £7 million a year or £24,000 a day to provide services to more than 2,000 people across Shropshire and Mid Wales annually. Patients and their families are supported either in the hospice or in their home when they need it most