School debating project celebrates third year
A successful annual competition aimed at teaching Shropshire pupils the art of public speaking and debating has been held in Shrewsbury.
The Debate-Ed scheme was launched by Lanyon Bowdler solicitor Holly Edwards three years ago and during that time more than 500 pupils across Shropshire have been involved in debating workshops, with 168 pupils taking part this year.
The latest competition was held at Shrewsbury College and was open to students from Years 7-9. Nearly 50 students attended from Concord College, Meole Brace School, Prestfelde School and Priory School.
The students engaged in lively and interesting debates on a variety of topics including gun control, the role of smartphones in modern society and medical testing on animals.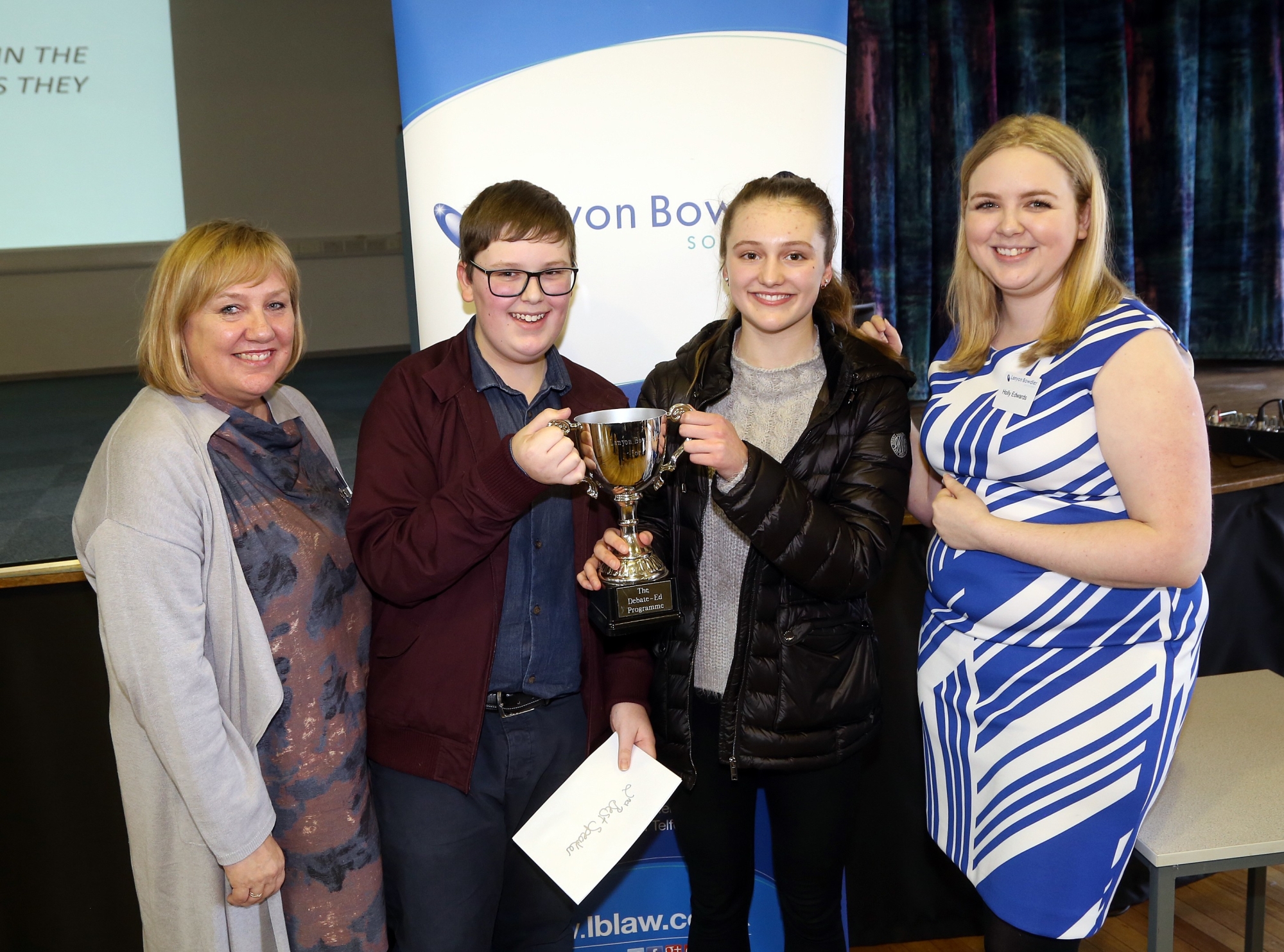 Ultimately, teams from Meole Brace School, Priory School and Concord College made it into the final, with Barney Cansdale and Sophiya Martynyuk of Concord College ultimately winning. This was an especially impressive achievement for Barney, who also won the competition last year.
This year, guest judges from numerous organisations, charities and businesses attended the competition, including Lanyon Bowdler, Shropshire Disability Network, Headway Shropshire, My Shrewsbury Magazine, Brands 4 Learning, BBC Radio Shropshire and Revive Aromatherapy.
Holly said that the programme also benefited greatly from the support of key sponsor, Lanyon Bowdler, as well as sponsorship from the Midcounties Co-Operative and the Shrewsbury Colleges Group.
One of the judges, Vicki Archer of BBC Radio Shropshire, said: "If that's the future we can all relax.
"They were smart, articulate, engaging and most importantly they listened; not only to each other to forward the debate, but to feedback and improved throughout the day".
Shelley Robinson from Shrewsbury Council who also was a guest judge on the day, added: "It was great to see the young people grow in confidence with every round of the competition.
"Gaining these presentation skills and the ability to counter and challenge a point of view will be so valuable for them in the world of work."
Holly said the event, sponsored by Lanyon Bowdler, was well supported and prizes were awarded to speakers and finalists.
"This was our third Debate-ED competition and it was pleasing to see so many pupils there taking part," she said.
"It is something that schools and pupils find extremely useful and we are delighted with its success.
"The students were amazing and coped well with complex and mature topics, such as whether the USA should ban guns.
Kay Kelly, a partner at Lanyon Bowdler, added: "The children taking part demonstrated enthusiasm and incredible progress during the day and it was quite humbling and inspiring for those of us acting as judges and providing feedback."