Professional golfer Jon Gidney lands new marketing role at The Shrewsbury Club
Professional golfer Jon Gidney is ready to tee off in his new role as marketing manager at a leading Shropshire health and fitness club.
Jon, who represented England at amateur level before turning pro, is delighted to have joined the staff at The Shrewsbury Club, which is also the venue for international tennis tournaments, including this week's $10,000 Aegon GB Pro-Series women's event.
A man of experience
As a long-term member of the club, he said he's looking forward to bringing his experience in marketing to the role.
A brand ambassador for a number of organisations since becoming a pro golfer in 2009, Jon is a director of Elton Gidney, a Shropshire sports branding and management company, while he also works closely with businesses as a sales, marketing and sponsorship consultant.

Jon, 29, said: "I'm delighted to be joining the team at The Shrewsbury Club. As a member, I have always thoroughly enjoyed spending time at the club. The staff are welcoming, the members are friendly, and the facilities outstanding. I have made some great friends at the club.

"I'm looking forward to starting and, in particular, exploring new marketing initiatives with my colleagues to enhance the club."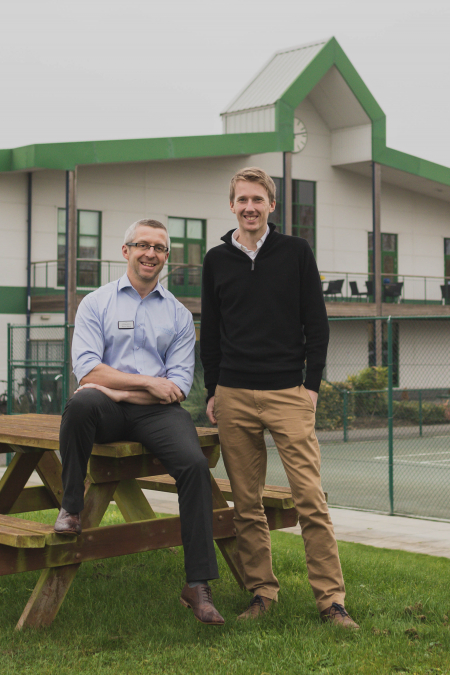 Picture above: Jon Gidney, right, with Alvin Ward, the general manager of The Shrewsbury Club.
Passionate about golf
Jon, who has played golf in 16 countries and reached the final qualifying round for The Open Championship six times, still plans to continue to play whenever he has the chance.

He added: "As a pro golfer, I spend time at corporate events and tournaments which I really enjoy, but I also have spare time and I fancied a new challenge. The opportunity to start this role at the Shrewsbury Club was ideal for me as it will allow me to continue my golf career while also endorsing The Shrewsbury Club at the same time."
The perfect fit

Alvin Ward, the general manager of The Shrewsbury Club, said: "We are delighted that Jon has joined our team. We already have strong ties with local businesses, schools and charities which Jon will be able to complement by promoting the club throughout the community.
"He is well known in the area and very familiar with all we have to offer, so he is a perfect fit for the role."     
Jon would like to welcome individuals and businesses to experience a complimentary day at The Shrewsbury Club. To arrange a visit, contact him via email at marketing@theshrewsburyclub.co.uk
He added there was also a limited number of exclusive sponsorship opportunities at the club which he would be delighted to discuss.