Pound devaluation will lead to more staycationers in 2017 says Shropshire caravan dealership
The devaluation of the pound against other currencies is persuading many people to plan their holidays in the Britain next year, as jetting off to the sun is set to become much more expensive.
Customer feedback
That's the conclusion of award-winning caravan, motorhome and campervan dealership Salop Leisure after speaking to customers at the recent West Midlands Caravan and Motorhome Show in Shrewsbury, which unveiled the 2017 models from leading manufacturers.
The show, held at Salop Leisure's Emstrey headquarters, attracted more than 20,000 visitors - seven per cent up on last year's event - over nine days and produced record breaking sales.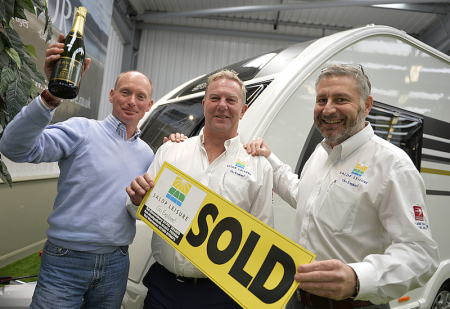 Salop Leisure's touring sales executives (from left) George Harris, Stuart Edwards and Paul Simpson celebrate their sales success at the recent shows.
Boom for the British tourism industry
"The main topic of conversation was Brexit and the devaluation of the pound, which is going to make overseas holidays a lot more expensive," said Salop Leisure's chairman Tony Bywater. "It seems that a lot more British people will be staycationing next year, which is great news for us and the British tourism industry.
"We were delighted with touring and static caravan, motorhome and campervan sales at the show and it was particularly pleasing to see a large number of first time buyers, who ranged from young families to retired couples. Many of the show visitors, who had not been inside a caravan for many years, could not believe how luxurious they are now and commented about their excellent value for money."
The show proved very popular with young families due to the range of entertainment provided by Little Rascals and Hawkeye Falconry UK. Wolves and Wales football star Dave Edwards also paid a visit to meet fans and sign autographs during the show.
Record sales
The Brexit theme continued when Salop Leisure's sales team attended the Motorhome and Caravan Show at the NEC, Birmingham from October 11-16. One of the top salesmen at the show was George Harris, a touring sales executive at Salop Leisure, who secured record sales.
Mr Bywater said demand for new caravan holiday homes, touring caravans and motorhomes had been so strong that manufacturers had virtually sold out their first production of 2017 models and were now working flat out to produce more.
Two of the most popular new models offered by Salop Leisure are the Willerby Portland Lodge at £81,421 and the Swift Celeste, a touring caravan exclusively designed for the company at the attractive price of £21,295.
"I have been involved in the caravan industry for 50 years and I'm more optimistic than ever about business prospects for 2017," he said. "I think it's going to be a fantastic year for the industry and our company, especially with the opening of our new touring park alongside our headquarters."