New dog grooming business launches in Shrewsbury
11th October 2013
... Comments
---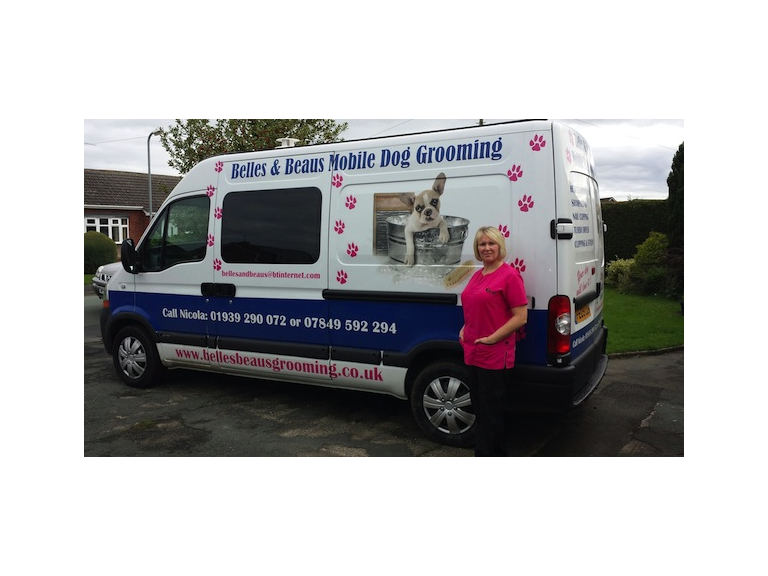 A Shropshire woman has swapped prisoners for pooches with the launch of a new mobile dog grooming business.
 
Nicola Sutton, 44, took advantage of the closure of Shrewsbury's Dana Prison earlier this year to retrain after 21 years as a prison officer and set up her own company to cater for people's canine companions.
 
She has now launched Belles & Beaus Mobile Dog Grooming that is offering a home visiting service across Shrewsbury and north Shropshire.
 
Nicola, who lives in Bomere Heath, invested her redundancy pay into the bespoke van that is her mobile grooming parlour. It is fitted out with a heated hydro bath and turbo dryer.
 
She can deal with everything from a simple shampoo and nail clip to dogs with more complex grooming needs.
 
Although it is early days, Nicola, a life long dog lover, said that pet owners were delighted with the service.
 
"Everyone is so busy these days that having to take your dog to a groomers, drive home and then go back and fetch them can be a major inconvenience.
 
"Being my own boss gives me the flexibility to be available whenever a customer needs me, including evenings and weekends. The van is completely self-contained – all I need is a source of electricity – so I can park up outside someone's house or workplace and groom their dog while they do something else.
 
"It is about as far removed from being a prison officer as you could imagine! When I was thinking about what to do with my career when it was announced that the Dana was closing, I thought I'd seize the opportunity to do something I really love and did a City and Guilds qualification."
 
For more information please contact Nicola on 07849 592294 or visit her Facebook page 'Belles & Beaus'.