Music students final end of year awards presented by The Charlatans bass guitarist
2nd July 2014
... Comments
---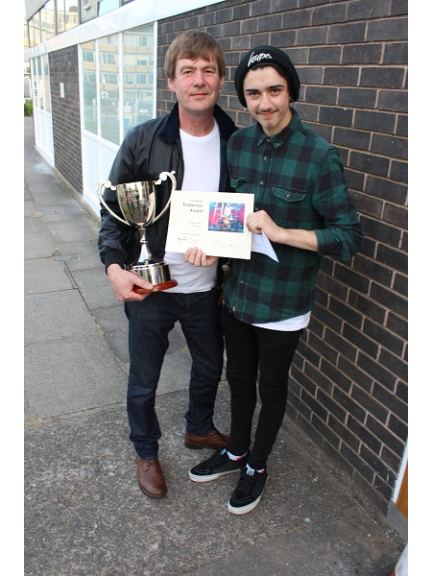 Shrewsbury College was honoured to welcome the bass guitarist from the band The Charlatans to present a music student with the prestigious Jon Brookes Award in honour of his former bandmate, who sadly passed away last year.

The Music Technology department held its final end of year awards evening last night, (Wednesday) as part of the College's annual Arts & Skills Festival.

The Jon Brookes award for Endeavour, was established after Mr Brookes, former drummer with world-renowned British Indie band The Charlatans, became affiliated with the College after helping to launch its Roland Academy for Music in 2009.

Over the years, he held student workshops focused on both drumming and working in the music industry as a whole, which included impressive personal demonstrations as well as giving students the opportunity to play alongside him to famous tracks by his band.

In August last year, Jon sadly passed away from a brain tumour. But his legacy through the College lives on and Martin Blunt, current bass guitarist with The Charlatans, attended the awards evening to present the award.

Prizes and certificates were handed out to students who had achieved well and contributed a lot to the course this year.

The Jon Brookes Endeavour Award was given to Zakk Wilson a Level 3 Year 2 student for outstanding hard work and determination shown this year.
Martin Blunt, said: "It was a pleasure to be asked to present the award which represents Jon's legacy. It was good to see the students from Shrewsbury and surrounding areas expressing themselves musically."

Robert Wear, Music Technology Lecturer, said: "It was amazing to have Martin present such an important award and to be able to come and meet the students. Jon did so much for us at the College and he was extremely influential in helping us to secure industry-standard facilities but also by spending so much time with the students and giving them a real insight into a competitive industry.

"To still have links with The Charlatans through Martin, who can help to carry on the amazing work Jon started, is a huge coup for the College. Well done to all of the students who scooped an award last night but especially well done to Zakk."
The awards ceremony was part of the College's annual Arts & Skills Festival, a series of events held to celebrate the best of Shrewsbury College students through music, fashion, drama and media.

For more information on courses at Shrewsbury College, please call Course Advice on 01743 3423411 or visit www.shrewsbury.ac.uk