Mission accomplished for Salop Leisure employee as Max raises £15,000 for charities
Max Ball was a young man with a mission when he set himself a series of 12 sponsored challenges at the start of last year to raise money for Macmillan Cancer Support.
Now his mission has been accomplished and he's raised a magnificent £15,000 - £7,000 more than his original target - thanks to the support of his family, friends, workmates and generous sponsors.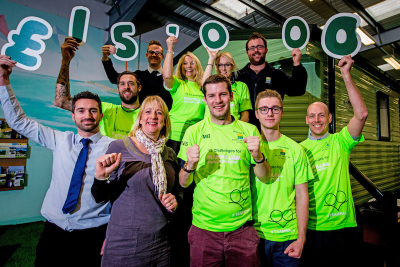 Max Ball (front, centre) with Helen Knight from Macmillan Cancer Support and workmates at Salop Leisure celebrate raising £15,000 for the charity. Photograph supplied by the Shropshire Star.
During the year, he conquered the National Three Peaks Challenge, completed a 24-hour squashathon, the Shrewsbury Sprint Triathlon and a106 kilometre cycle ride in Ludlow, escaped from a prison, acted a scene from a Shakespeare play and survived a bungee jump and white water rafting, to name but a few of his challenges.
His inspiration throughout the gruelling series was his dad, Steve, who was diagnosed with terminal oesophagus cancer in 2015 and died last November. Rather than dwell on his dad's illness, Max focused on doing something positive to help people who are battling cancer.
He came up with MaxAndTheMac12 as a way of saying 'thank you' to Macmillan Cancer Support for supporting his family. He was joined on many of the challenges by family members, friends and workmates from Shrewsbury-based caravan, motorhome and campervan dealership Salop Leisure, where he is a marketing assistant.
One of his friends, photographer Paul Wilkinson of Twig's Branch Photography, contributed £850 towards the total by organising a 'boudoir marathon' – 12 photo shoots, involving 12 different women, in 12 hours –at the Lion Hotel, Shrewsbury. 
Workmates Tony Cooke and Ed Glover also raised £1,200 by taking part in The 2016 Macmillan 4x4 Challenge and another friend raised £1,000 by organising a poker tournament in memory of Steve, the bulk of which will go to Macmillan, with the remainder going to Severn Hospice and Hilbrae Rescue Kennels.
Max was totally overwhelmed by the support he received and had planned a 'thank you' party for invited guests at Shrewsbury Cricket Club in November, but the event was cancelled due to Steve's passing.
"Thank you to everyone who was part of, sponsored or helped in making the MaxAndTheMac12 campaign the success it was," he said. "This whole year was an important step for me in coming to terms with by father's terminal illness.
"I can reflect on the year with pride. I completed my first bungee, my first mud run, my first live street performance, my first triathlon and my first cycling sportif. There were amazing times: completing the Shrewsbury Half Marathon and the National Three Peaks Challenge with very little training were highlights.
"I can't believe the incredible sum that we have raised for Macmillan Cancer Support in Shropshire. It has been a pleasure to work with this charity throughout the year."
He hasn't yet decided what his fundraising future holds, but he has hinted at an interest in helping a charity that supports children with cancer.
Helen Knight, fundraising manager for Macmillan Cancer Support in Shropshire, said: "This has been an incredible journey for Max and the support he received was overwhelming. It has been a joy to work with such an inspiring young man. 
"Max has raised a wonderful amount of money for people affected by cancer, ensuring we can continue to support them locally. He has also spread the word about our work and embraced so many people over the past 12 months."