Mayor starts work on Shrewsbury's pioneering touring caravan park and wellness centre
Shrewsbury's Mayor Councillor Ioan Jones today cut the first turf to mark the start of work on a £3.5 million project to create a pioneering new touring caravan park and glamping village with a wellness centre and spa facilities on the edge of the town.
The park and glamping village, which will have 120 touring caravan pitches and create up to eight jobs, is being developed on 21.5 acres of land by caravan, motorhome and campervan dealership Salop Leisure alongside the company's Emstrey headquarters.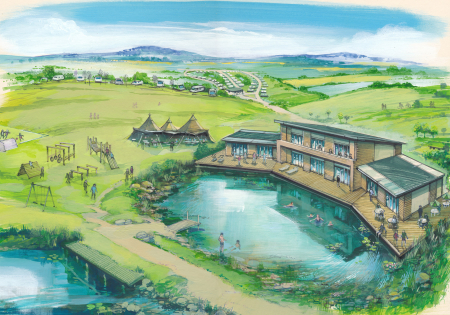 Above: An artist's impression of the new touring caravan park, glamping village and wellness centre.
A brand new experience
 "We are keen to develop a park that is a new concept at one with nature and will instil a feeling of well-being and tranquillity in our visitors," said Mark Bebb, Salop Leisure's managing director. "Our lives have become dominated by technology, with our children glued to iPads and the Internet. We want to get them to experience the grass between their toes and enjoying the glamping experience.
"The park is in a perfect location on the edge of Shrewsbury with fantastic views towards the Wrekin and the South Shropshire Hills. Shrewsbury is a really beautiful town and we believe that it deserves to attract more visitors.
"The new touring park and glamping village will attract people from all over the country and hopefully that will benefit the town and local businesses. Shropshire has a lot of natural beauty and activities just waiting to be discovered."
Sure to attract tourism
The Mayor Cllr Jones praised the beautiful location and the 360 degree views from the new development, which he said was very convenient for the town, would attract tourism and also appeal to local population.
"I wish Salop Leisure all the best with this development which should be a major boost to the local economy, providing jobs and bringing revenue into the area," he added.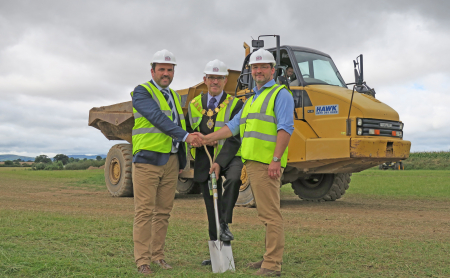 Pictured above: Shrewsbury's Mayor Councillor Ioan Jones cuts the first turf for the new development watched by Salop Leisure's managing director Mark Bebb (right) and Stuart Thomas, partner and head of planning at Berrys.
The environmentally friendly development will have a natural swimming pool, spa type facilities with a pilates and yoga instruction studio, gym, wooden play area, boot camp fire pit, fishing pool, wildlife area, dog walking paths, cycle track, Love Coffee café and electric car charging point. Activities will be aimed at both children and adults and they can choose to either take part or to relax in fantastic surroundings.
Raising the bar for caravan parks
"As a company we develop caravan parks to five star standard, but this touring park will raise the bar to a new level," added Mr Bebb. "I believe that what we are currently offering customers as an industry isn't good enough for the future and we have to move with the times and push boundaries.
"A beautiful reception building will have a coffee shop with decking overhanging one of the pools and we will organise activities for all the family."
Local attractions
The new development is located close to tourist attractions including Attingham Park, Wroxeter Roman Vineyard and the Ironbridge Gorge. Mr Bebb hopes the development will benefit people buying touring caravans, motorhomes and campervans from the business who can use the park to familiarise themselves with their purchase before going on a big trip.
Salop Leisure is delighted that the new park had been accepted as a prestigious affiliated site of The Caravan Club, which provides high quality services to one million caravan and motor caravan owners. There are only 42 affiliated sites in the UK, which are expected to offer the same high standards as club owned sites.