Shrewsbury fundraiser gets £1,000 boost from Salop Leisure towards cancer charity target
A son's mission to raise £8,000 for Macmillan Cancer Support to say thank you to the charity for supporting his father who is battling terminal cancer, has this week received a £1,000 boost from his employer.
Local donations
Max Ball, 24, a marketing assistant at Shrewsbury-based caravan and motorhome dealership Salop Leisure, has seen the total raised towards his target rise to in excess of £6,000 following the company contribution.
The £1,000 is made up of donations for tea and coffee served by Salop Leisure at the recent West Midlands Caravan and Motorhome Show and a sponsorship from a charity football match the company played against Greenhous Group at the Greenhous Meadow Stadium.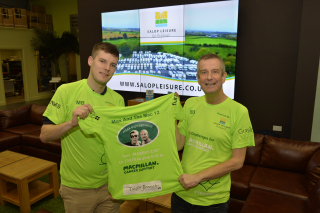 Picture:Max Ball with his dad Steve
Max and the Mac 12
Max set himself 12 different sponsored challenges - MaxAndTheMac12 - during 2016 after his father, Steve, was diagnosed with oesophagus cancer last October. Steve has recently completed a course of chemotherapy at the Royal Shrewsbury Hospital.
The support from workmates, family, friends and sponsors has overwhelmed Max and he's now very confident of exceeding his £8,000 fundraising target.
"The money raised by MaxAndTheMac12 will help Macmillan to reach more people with cancer and improve the quality of care and support available to them during their cancer journey," he said.
Five challenges in the bag
He has already taken on a solo bungee jump at Tamworth Bungee Club, tackled the Dash of the Titan mud run in Nottinghamshire, joined a team from Salop Leisure to sit on half the 9,875 seats in Shrewsbury Town's Greenhous Meadow stadium and performed a scene from 'Much Ado About Nothing' in The Square in Shrewsbury for Shakespeare Day.
When he, workmate Adam Franklin and friends Ash Piele and Steve Wright took on the Rough Runner Challenge near Oxford last week, things didn't go exactly to plan. Steve ended up in hospital for the night after gashing his forehead after falling on one of the obstacles. Max and the other two contestants managed to complete the challenge.
A long way to go
Next up for Max is the Shrewsbury Half Marathon on June 19, followed by the National Three Peaks Race from July 1-3, a foot golf tournament on July 24, white water rafting in Llangollen and a 24 hour squashathon at Kingsland Squash Club, Shrewsbury in August, Shrewsbury Sprint Triathlon on September 4 and a 106 kilometre ride at Ludlow Cycling Festival on September 18.
As an extra fundraiser, he's planning a bake-off amongst Salop Leisure staff to coincide with Macmillan's World's Biggest Coffee Morning on September 30.
Salop Leisure workmates Tony Cooke and Ed Glover also raised £1,200 by taking part in The 2016 Macmillan 4x4 Challenge earlier this year.
Anyone wishing to support Max can donate money using www.justgiving.com/MaxAndTheMac12/.