Shrewsbury's Max and his team conquer Three Peaks Challenge to hit £8,000 target
Macmillan Cancer Support fundraiser Max Ball was joined by four workmates and friends in conquering the National Three Peaks Challenge in 24 hours.
A mountainous task
They conquered Mount Snowdon with just 15 minutes to spare on July 3 and hope to have raised more than £2,000, which takes Max, 25, over the £8,000 target he set when he decided to take on 12 different sponsored challenges - MaxAndTheMac12 - during 2016.
All the money raised will go to Macmillan Cancer Support which is supporting his father, Steve, who was diagnosed with oesophagus cancer last October, and family.
A team effort
Max was joined in completing the National Three Peaks Challenge by his Salop Leisure workmates Ed Glover, Mark Jones, Mark Fras and Sophie Ratcliff, Duncan Smith from Swift Group and friend Steve Owen. Tom Greatorex and Ben Ashford also completed part of the challenge.
Tony and Lynda Cooke from Salop Leisure, Paul Shoebridge, Jane Greatorex and Tony Parker were the designated drivers.
The three peaks
The group began their challenge at Ben Nevis in Scotland at 6.30am on July 2 and took four hours and 20 minutes to reach the top and walk back down. Scafell Pike in the Lake District was next at 6.30pm and took three hours to complete.
Lastly, the group arrived at the base of Mount Snowdon in North Wales at 2am and climbed in the dark and through thick fog to reach the top and return to their vehicles by 6.15am.
Frightening and fantastic
"It was the most mentally and physically challenging thing that I've ever done," confessed Ed Glover, Salop Leisure's assistant marketing manager. "I genuinely feared for my life as climbing Snowdon in the pitch black and fog at two o'clock in the morning, but it was fantastic to have completed the challenge within 24 hours."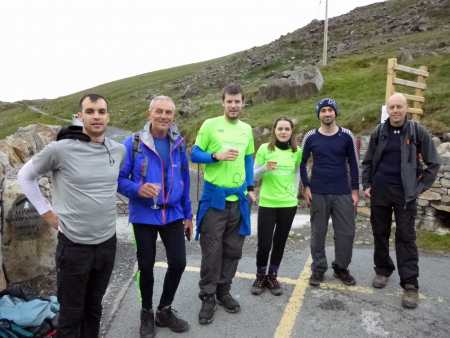 Above: The six walkers at the end of the challenge (from left) Ed Glover, Steve Owen, Max Ball, Sophie Ratcliff, Mark Jones and Mark Fras.
A tough but enjoyable weekend
Max said: "I was delighted to have completed the challenge within the allotted time, particularly as I injured my ankle on Ben Nevis and I had a 40 per cent chance of being able to climb Scafell Pike and Snowdon. It was a really good effort by everyone and we all enjoyed the weekend.
"I have had phenomenal support from my work colleagues, family and friends, which has helped me pass the £8,000 fundraising target with five challenges still to go. The money raised will help Macmillan to reach more people with cancer and improve the quality of care and support available to them during their cancer journey."
Six challenges remain!
Next challenge is a Dana Prison escape on Sunday, followed by white water rafting in Llangollen and a 24 hour squashathon at Kingsland Squash Club, Shrewsbury in August, Shrewsbury Sprint Triathlon on September 4 and a 106 kilometre ride at Ludlow Cycling Festival on September 18.
As an extra fundraiser, he's planning a bake-off amongst Salop Leisure staff to coincide with Macmillan's World's Biggest Coffee Morning on September 30.
Anyone wishing to support Max can donate money using www.justgiving.com/MaxAndTheMac12/.