Making life a little easier for expectant mothers in Shrewsbury
5th June 2013
... Comments
---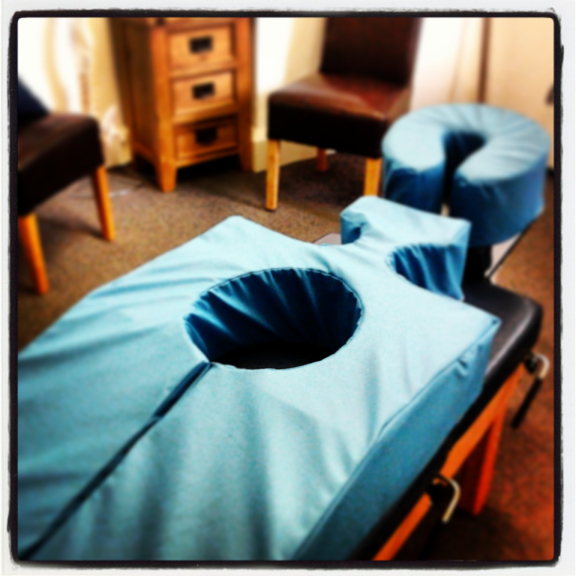 We are excited to show off our new pregnancy support pillow - our latest, very simple but effective piece of equipment we have at Shrewsbury Family Chiropractic.
The pregnancy support pillow offers expectant mothers support when they lay on their front while also cradling the developing baby and growing belly. It also provides space to protect possible tender breasts – Two common reasons for a pregnant lady not being able to lay on their front and to stop their care during a special time when it will help them the most.
Chiropractic care helps women to be as healthy as they can during pregnancy. Regular chiropractic care during pregnancy helps maintain balance, alignment and flexibility. Your Chiropractor will also check to ensure that your pelvis is sitting correctly to allow optimum room for your baby to grow and move. When the baby is comfortable, he or she can assume an optimal birthing position allowing for a smoother more natural birth. Many patients also report less morning sickness.
During pregnancy low back, mid back and neck pain develop, especially if you already have a little child that requires lifting. By getting your spine and nervous system checked by your chiropractor during pregnancy, you will enjoy less discomfort and you will be setting yourself up for a more pleasant natural birthing process.
Often women learn to just accept pregnancy discomforts when in fact they don't need to. The changes going on in your body will often cause strain on your spine and nervous system. These can be caused by growing breast size, altering weight distribution and posture. Problems that this may lead to are: Sciatica, Symphysis pubis and pelvic pain. In the upper back, pain, shortness of breath and heartburn may result.
The support pillow is really comfortable and allows the continuation of care during this exciting time. When patients get to use one like this I often hear them saying something like: "I haven't been able to lay on my front for ages, I could just lay here for hours".
For more information you can contact Glenn at Shrewsbury Family Chiropractic on 01743 493091, you can visit his website or join in with his FREE local community health resource on facebook or find him on Google+.
By Glenn Fredericksen