Local schools enjoy taste of Wimbledon at The Shrewsbury Club
Up to 1,000 local youngsters have been handed the exciting chance to play tennis at The Shrewsbury Club to coincide with the Wimbledon Championships.
Wimbledon fortnight
Simon Haddleton, the club's new director of tennis, decided to run the Wimbledon schools' initiative - free for participating schools - at the same time the sport enjoys its most celebrated fortnight of the year in this country.
A number of local schools have been invited to take their pupils along to the Sundorne Road venue to take part in fun activities to introduce them to tennis.
Youngsters from Greenfields and Crowmoor Primary Schools together with Shrewsbury Cathedral Cathlolic Primary School have all enjoyed visits this week. Pupils from Hadnall C of E Primary School and Harlescott Junior School will also have the chance to pick up a racket in the next fortnight.
A great way to experience tennis
"The children have all had a great time," said Simon. "They get to spend time on court with the coaches, playing a bit of tennis, hitting some balls, and also have the chance to watch some exhibition matches between club coaches while sat in a stand at the side of the court, so there's lots of cheering and getting involved with the points.
"It's a chance for the children to come along and experience tennis and we hope that they go home, put the television on and watch some of the coverage from Wimbledon.
"They then get invited back to The Shrewsbury Club the weekend after they have been to see us for another free session, and hopefully it will help them just love tennis, want to pick up a racket and go from there."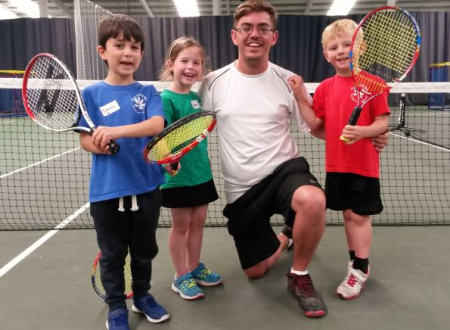 Above: Simon Haddleton, the director of tennis at The Shrewsbury Club, with young pupils from Shrewsbury's Greenfields Primary School, from left, Louis Perry, Ava Sherwin and Jamie Roberts.
Popular with pupils
Nigel Hunter, Tennis Shropshire's director of tennis, added: "This initiative, the brainchild of Simon, is an extension of The Shrewsbury Club's schools' programme, which is sponsored by Budgen Motors.
"Simon challenged himself and the team at the club to work with 1,000 children over five days and it's been fantastic so far with the kids loving it. There's lots of fun activities for them to get involved in."
Megan Smith, a Year One teacher at Shrewsbury's Greenfields Primary School, said the chance to take part in a fun day of tennis had proved popular with pupils.
She added: "It's a really good idea. We had the offer to bring the children along for free and a lot of the pupils at our school had never played tennis before, so they were very enthusiastic about it and they had a great time.
"They said they wanted to go home and watch Wimbledon on television, so it's a really good way to get them more involved in the sport and to get to know more about it so that they want to play it."
The Shrewsbury Club loves tennis
The Shrewsbury Club is always keen to engage with local schools, with more details available by contacting simon.haddleton@theshrewsburyc lub.co.uk 
The Shrewsbury Club host two top professional tennis tournaments each year, with many of the players currently competing at Wimbledon gracing the club's courts in the past.