It's a family affair for Shrewsbury Funeral Directors
An award-winning firm of funeral directors has announced the appointment of their younger daughter as part of a plan which sees the culmination of a long-held vision to be completely family-run.
Keeping it in the family
Aubrey Kirkham Funeral Directors was set up by Aubrey and his wife Ann well over a decade ago, with the vision of respectfully and gently supporting grieving families across the county. They dreamed of bringing their whole family into the business and took on their elder daughter Leanne Garvey 13 years-ago, who went on to qualify as one of the very few fully-qualified female funeral directors in the region, before today's announcement of the appointment of younger daughter Selina Kirkham.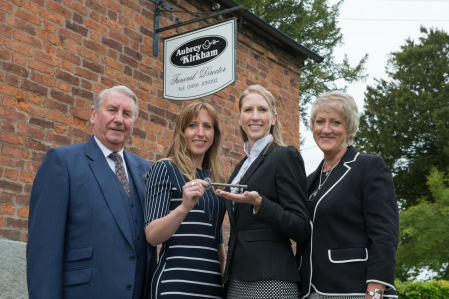 Pictured: Aubrey Kirkham with his two daughters Leanne and Selina, and his wife Ann.
"We're delighted to have Selina on board," explained Aubrey Kirkham, "and it very much sees the fulfilment of both Ann's and my dreams for the business when we founded it. It was imperative to us that the company offered only the very best, most gentle and respectful support to bereaved people across the county, and our focus on family ethics and values has gone a long way to helping us achieve this. Now with Selina on board we're able to move forwards even further," he concluded.
Inspired by her parents
Selina joined the family garden centre, Percy Throwers, straight from Adcote School, before moving to Coed-y-Dinas in Welshpool and Moreton Park in Oswestry where she was Manager. For the last two years she has managed the display and showroom for Premier, the UK's largest Christmas business, but was always eager to support the family business.
"I've long seen the passion and dedication my parents and my older sister have for the business," explained Selina Kirkham, "and the kindness that they show to each and every person who makes contact with the firm. I celebrated with them when their commitment to all of this was recognised by the Shropshire Chamber of Commerce just two years ago with an award for Commitment to Customer Care, and I have been considering how best my own skills may fit for some time," she concluded.
Selina will be running and managing the firm's Frankwell office on Frankwell island in Shrewsbury, and will also be involved in Magnolia Memorials, the expanding Memorials Division, alongside Leanne and Aubrey. Her Mother Ann runs Floranz, the floristry division which looks after floral tributes.
For further information about Aubrey Kirkham Funeral Directors, please call 01743 368999 for the Shrewsbury office, 01938 555099 for the Welshpool office, or 01691 839292 for the Four Crosses Funeral Home. Alternatively please visit www.aubreykirkhamfuneraldirector.co.uk.