Gruesome murder trial teaches students about criminal law
A Shropshire teacher has been cleared of the gruesome murder of a colleague and the real killer identified in the most dramatic of circumstances. 
This is one of the biggest stories in Shropshire for many years - or it would be if it was true. It is in fact the plot acted out by students of Wrekin College in Wellington at a mock trial before a real retired judge.
The case study was created by Holly Edwards and Lucy Speed of Lanyon Bowdler Solicitors, who also helped the students practice all their roles and provided essential guidance to ensure the trial went well.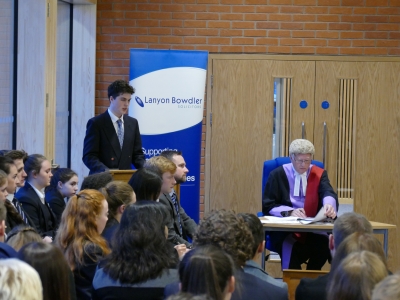 Students played the roles of barristers, witnesses, the jury and court clerk. Mock trials are designed to give students an insight into the legal profession and a taste of what they need to achieve if they choose law as a chosen career.
The event was sponsored by Lanyon Bowdler, Morris & Co and Handlesbanken.
Holly said parents, teachers and other students were invited to watch proceedings as the trial focused on the gruesome murder of teacher Mr John Doe, at Wrekin College, with another teacher accused of his murder.
"There were opening speeches from both the prosecution and defence teams, followed by questioning of six witnesses," Holly said.
Student Henry Davies, who delivered an excellent opening speech for the defendant, said: "I thoroughly enjoyed the whole experience. It has definitely inspired me even more to try and pursue a career in the law world.
"Judge Robin Onions was fantastic throughout the trial, taking the matter seriously and also being as real life as he could possibly be, giving us a rough idea of what a barrister's job entails in the courtroom."
Judge Onions said he was always pleased to witness the enthusiasm students brought to mock trials and hoped the experience would help with career choices in the years ahead.
Support was provided by Lyndsey O'Loughlin of Morris & Co, who attended the practices and helped with the overall organisation of the event. She said Morris & Co was delighted to have been involved in such a stimulating and exciting event and that the students delivered some truly outstanding performances.
And, in keeping with all the best courtroom dramas, there was a final twist to this particular story.
After the jury and judge had both acquitted the defendant of murder. the real killer identified themselves - it was the headmistress in the art building with the knife.
No-one saw that one coming!