Fundraising Is Picture Perfect For Shrewsbury Artist
8th May 2013
... Comments
---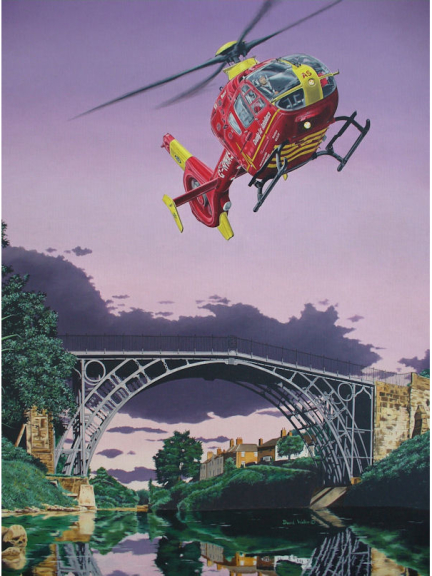 Acclaimed Shrewsbury artist, David Walker, is planning to raise over £20,000 for Midlands Air Ambulance Charity through the sale of his collection of prints especially commissioned for the service.
30 Years Experience
David has worked as an artist for nearly 30 years and during this time he has created a number of special prints, which he is starting to sell to help raise money for the vital life saving work of the Midlands Air Ambulance.
Assisting the Charity
David comments: "It's incredible that such a heavily relied upon public service is dependent on fundraising. As one of my son's close friends has been airlifted twice by air ambulance, I wanted to do whatever I could to assist the charity. Among my passions I enjoy painting aircraft and therefore starting depicting the iconic red and yellow helicopter over key landmarks in the area, such as Ironbridge." 
In addition, David has produced a beautiful painting of the famous helicopter against a dusky sky. 
Jason Levy, fundraising and marketing director for Midlands Air Ambulance Charity, states: "We rely solely on donations from the public to raise the £6 million each year to keep the service in the sky, so it's wonderful to have such unique and long lasting support from people like David. His masterpieces have already brought a great deal of joy to those who have bought them, and we expect his paintings to continue to help raise a significant amount for our cause."
Open Day
David will be attending the Sleap Airfield Open Day on 18th and 19th May, where the paintings will be on display and available to purchase from just £45. 
If you are interested in viewing David's gallery of Midlands Air Ambulance Charity's paintings, visit his website at: www.david-walker.org.uk. For further information about Midlands Air Ambulance, please visit www.midlandsairambulance.com or contact the team on 0800 840 20 40.