Frenchman Fabien Reboul is crowned Shrewsbury tennis champion
Unseeded Frenchman Fabien Reboul held his nerve to be crowned Budgen Motors GB Pro-Series champion after winning an exciting final against Austrian Maximilian Neuchrist at The Shrewsbury Club.
The 22-year-old from Toulouse eventually emerged a 6-4, 3-6, 7-6 winner in front of a big crowd at the Sundorne Road venue.
It was a fitting end to another excellent week of tennis at The Shrewsbury Club, with Reboul, who can expect to rise significantly from his current world ranking of 447, delighted to claim victory in the $25,000 event.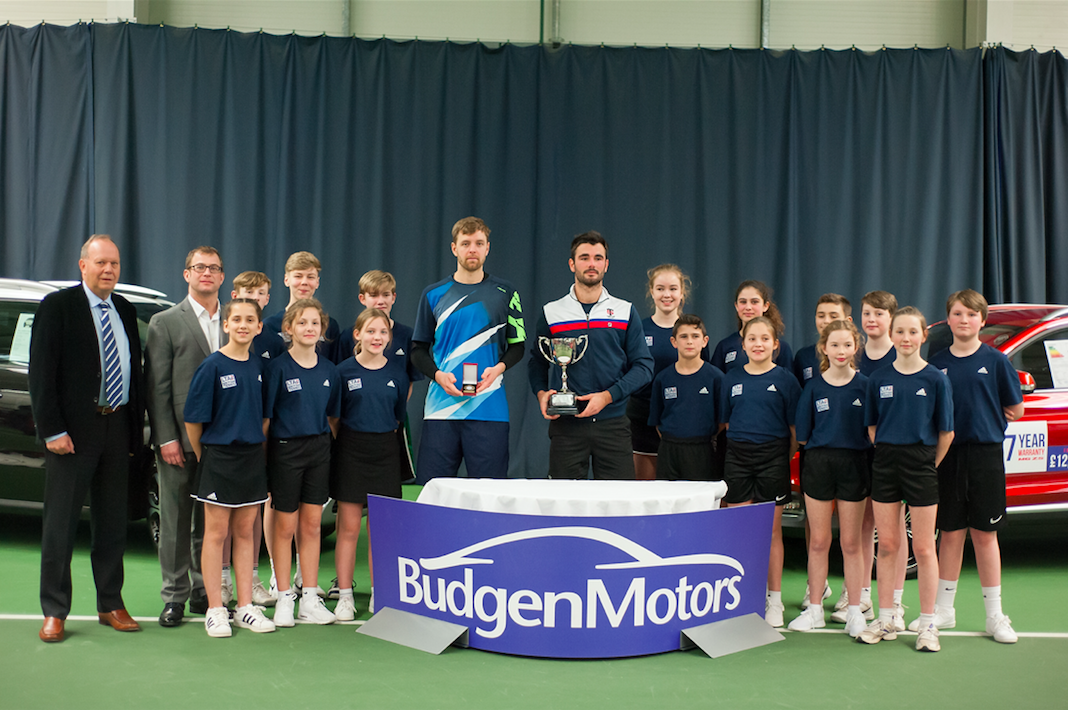 Champion Fabien Reboul lifts the trophy watched by runner-up Maximilian Neuchrist at The Shrewsbury Club. Picture: Richard Dawson Photography.
He's the first French winner of the Shrewsbury GB Pro-Series men's tournament since Quentin Halys, who is now just ranked outside the world's top 100, lifted the title in 2015.
Reboul said: "It was a great week. I knew that the final is tough because you have stress and you have a lot of points and I played against a very good player. I'm very happy to win this tournament but I felt so good this week. We can see it on court when I feel good and I'm very happy."
He added: "It was not my best match because I was a little bit tired and I need to run a lot on the court. He played aggressive, his serve is very good, but I try to give my best.
"I lost the second set, I said 'come on, you can do it in the third set' and was all the time fighting. I gave my best and today I won, but he deserved it too."
Seventh seed Neuchrist, 26, from Vienna, whose current world ranking is 408, had not lost a set in reaching the final.
Reboul's victory was also good news for Shifnal Tennis Club, who received £250 after being paired with the Frenchman when each of the 32 players through to the main draw were allocated a Shropshire tennis club to represent at the tournament.
Julie Piper, the tournament director for the Lawn Tennis Association, hailed the event, a popular tournament on the International Tennis Federation circuit, as a great success.
She said: "It's been an excellent week once again and Fabien Reboul has had a wonderful time here. We've had fantastic crowds again and it's good for the players to play in front of a supportive crowd. They don't usually get that at this level at other events.
"The Shrewsbury Club always do an excellent job hosting the tournament and thanks also to Budgen Motors for putting in the extra finance to raise the event from a $15,000 to a $25,000 tournament."
Dave Courteen, the managing director of The Shrewsbury Club, felt the entertaining final was a worthy way to bring the tournament to a conclusion.   
"It was a really close match which Fabien Reboul just edged on a tie-break," he said. "It's been another excellent tournament with lots of quality tennis and the sponsorship provided by Budgen Motors helped attract many quality players.
"We appreciated the support we received from the town and local community. A lot of people came out to watch throughout the week with a good crowd for the final, including a sold out VIP lunch. The players were very complimentary about just how much they had enjoyed it."
The spectators for the final included David Law, the tennis broadcaster, who covers events around the world for BBC Radio 5 Live and BT Sport, and he was impressed.
He said: "The event is put together with great enthusiasm, pride, innovation and attention to detail."   
Professional tennis will return to The Shrewsbury Club later in the year with a women's GB Pro-Series tournament getting under way on November 4.