Former Wimbledon semi-finalist set to play in Shrewsbury tennis tournament
A former Wimbledon semi-finalist and a host of rising British stars will compete for honours when professional tennis makes a popular return to Shrewsbury this weekend.
A week of tennis action
Qualifying for the $10,000 Aegon GB Pro-Series women's tournament begins at The Shrewsbury Club on Sunday. The action will continue throughout next week at the Sundorne Road venue leading up to the singles final on Saturday, November 12.
There is free entry to a tournament which plays a key part in the development of players on the road to stardom. Many of the players currently in the top 100 of women's world tennis - including No 1 Angelique Kerber - have played at The Shrewsbury Club in the past.
A new winner is guaranteed this time as French player Oceane Dodin, 20, champion at Shrewsbury for the last two years and now ranked 83 in the world, is not taking part.
Star-studded tournament
The entrants include experienced American Alexandra Stevenson, 35, once ranked as high as 18 in the world and a Wimbledon semi-finalist in 1999 when her memorable run at SW19 was eventually ended in the last four by Lindsay Davenport.

The British challenge is headed by Cambridgeshire's Lisa Whybourn while fellow Brits Maia Lumsden and Manisha Foster will also be hopeful of success.

Georgian Mariam Bolkvadze, now based in Middlesex, has won two $10,000 events this year while Ling Zhang, from Hong Kong, once ranked 184 in the world, Swiss player Tess Sugnaux, and Marie Benoit, from Belgium, could be among the other leading contenders.
There will be local interest with Shrewsbury's Lauren McMinn lining up in Sunday's first qualifying round as she targets a place in the main draw. But Chloe Hughes, from Bettisfield, a member at The Shrewsbury Club, will unfortunately not be able to compete owing to a shoulder injury.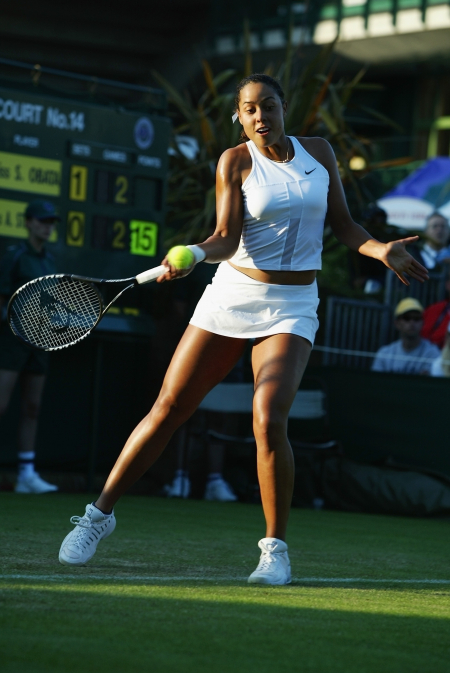 Pictured above: Former Wimbledon semi-finalist Alexandra Stevenson has entered the Aegon GB Pro-Series tournament at The Shrewsbury Club. Picture: Getty Images for LTA.
Excitement builds
Julie Piper, the tournament director for the LTA, said she was delighted to be returning to Shrewsbury for an event which has built an impressive reputation.

She added: "Over the last few years we have seen many of the world's top players cut their teeth on the club's courts who have then gone on to bigger and greater things, none more so than US Open champion and world No1 Angelique Kerber.

"I am sure this tournament will be no different and, who knows, you could be seeing a future Grand Slam winner."

Dave Courteen, the managing director of The Shrewsbury Club, said there was much excitement ahead of another Aegon week in the town.

He added: "It's a really exciting week here at the club. Everyone in the team really looks forward to it and our members really enjoy it. It's great to see such amazing tennis and clearly we're building a real legacy for players that play here that then go on to be in the world's top 10.

"It's nice to watch the up and coming British players and there's always plenty of quality players from overseas, a nice mix of young and more experienced players.
"The support the event receives from local people improves year on year which is fantastic and it's a chance to watch world class sport on your doorstep free of charge.
"Court-side seating will be in place from Thursday onwards to give an excellent view of the action while the earlier rounds can be enjoyed from the club's balcony. Food and drink will be available throughout the week and we look forward to welcoming lots of spectators."
The main draw, which begins next Tuesday morning, will be conducted at a civic reception to launch the tournament at University Centre Shrewsbury on Monday night. The Shropshire nominations for the Aegon British Tennis Awards will also be revealed at the event.