Former Wimbledon semi-finalist ready for first round match in Shrewsbury today
Alexandra Stevenson, a former Wimbledon semi-finalist once ranked as high as 18 in the world, is looking forward to beginning her quest for success in the $10,000 Aegon GB Pro-Series tournament at The Shrewsbury Club today.
The experienced American attended a civic reception to launch the event at University Centre Shrewsbury last night when the main draw for the women's tournament was held.
Stevenson has been handed a first round tie today against British youngster Ellie-Rose Griffiths, 17, in what will be a first meeting between the players.
Stevenson, who reached the last four at Wimbledon in 1999, said: "I'm healthy and I'm excited to be playing - and I'm ready to go."
She added: "I'm playing over in France next week so this was a good tournament to come to. It's indoors and I like indoors. I need to get my points up."
Stevenson, seeded six for this week's tournament, arrived in Shrewsbury over the weekend and stressed she's been impressed with what she's seen of the town so far. 
"It's a lovely club and the town is lovely as well," she said. "I like the Tudor style buildings and hopefully I get to go and see the castle, but I haven't really done much except go to the club and the hotel." 
This week's top seed is Tess Sugnaux, 21, from Switzerland, who will be first on Court 2 this morning when she faces British player Louise Holtum, who progessed from the second qualifying round yesterday.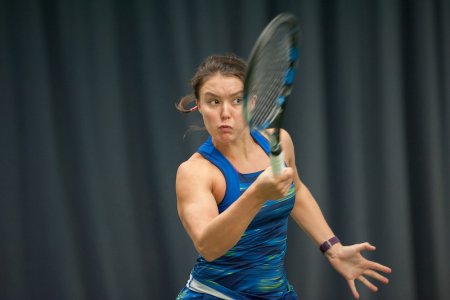 British player Louise Holtum, seen in qualifying action yesterday, has been drawn against No 1 seed Tess Sugnaux, from Switzerland, in today's first round at The Shrewsbury Club.
No 2 seed Mariam Bolkvadze, from Georgia, also has a British opponent in the first round having been paired against Mollie Crouch.
Today's action will get under way at The Shrewsbury Club at 10.30am with admission free throughout the week, including to Saturday afternoon's singles final.