Footballer Dave Edwards becomes patron of the Harry Johnson Trust
Shropshire football star Dave Edwards has become the patron of a county children's cancer charity.
The Wolves midfielder and Wales international is looking forward to supporting the Harry Johnson Trust, set up nearly two years ago by Sally and Stephen Johnson in memory of their inspirational son.
Harry's Legacy

Harry, from Vennington, near Shrewsbury, passed away in July 2014, aged just seven, after a brave battle against a rare childhood cancer. The Worthen Primary School pupil had been diagnosed with Double Hit non-Hodgkins Lymphona and was only the third child known to have this form of cancer.
The Harry Johnson Trust offers help and support to other local children who receive care from the Oncology team at Telford's Princess Royal Hospital. The charity has already raised more than £125,000.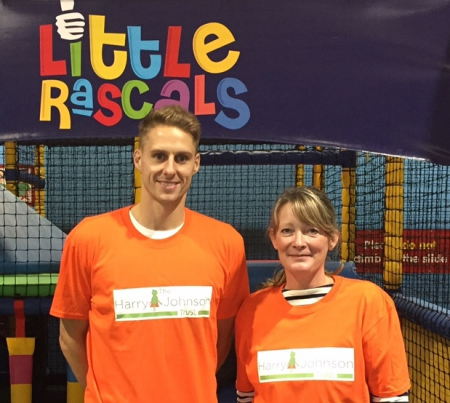 Pictured above: Wales international footballer Dave Edwards, the new patron of the Harry Johnson Trust, with Sally Johnson.
Inspired to help a local cause
Footballer Dave, also the co-owner of Little Rascals Indoor Soft Play Centre in Shrewsbury, said: "I will do anything I can to help promote the Harry Johnson Trust. That might be through fund raising events, making visits, just anything I can really to help.
"Having grown up living so close to Harry and his family's home, it's an area I know very well. To have such a tragedy happen to a family you know and live close to meant you feel it more.
"I'm such a huge fan of what Sally, Stephen and Eric, Harry's brother, have done with the Harry Johnson Trust. They have raised an incredible amount of money already and to be supporting so many families around Shropshire and Mid Wales in Harry's name is amazing. It's really inspiring what they have managed to achieve."
Delighted by Dave's support
Sally added: "We are delighted that Dave has become the patron of The Harry Johnson Trust. He has supported us since the very beginning of Harry's Trust, playing in the Shrewsbury Town Legends match we held last May, and donating signed shirts for us to auction.

"As a local charity, it's particularly special for us that Dave still has local connections and we know that this community matters as much to him as it does to us. We couldn't ask for a better friend to the Trust and to all the children and young people we support.
"We are looking forward to Dave's continued support and would like to say a huge thank you to him for his kindness."