Festivals expert Beth recruited as Shrewsbury tourism officer
Tourism in Shrewsbury is about to get an injection of energy and fun following the appointment of Beth Heath as the town's tourism officer.
She is excited to take up the part-time post with Shrewsbury Tourism Association and brings with her the experience of having organised a series of successful festivals across Shropshire for the past 12 years.
A light in the community
Beth, 38, who lives in Ironbridge with her husband and two children, ran Ludlow Food Festival for 12 years and now organises Shrewsbury Food Festival, Shrewsbury Winter Festival and Shropshire Kids Festival in the town.
Now she is going to focus some of her time and energy on helping tourism association raise the profile of tourism in Shrewsbury and attracting more visitors and spending power to the town.
Putting Shrewsbury on the map
"I have been organising festivals for what seems like ever and have built up lots of contacts in Shrewsbury, so it makes sense that I should be working with all the businesses in the town," she said.
"I have lots of ideas of how to put Shrewsbury on the map and to shout about how fantastic the town is. Our aim is to increase footfall, increase the length of the tourist season and encourage people from other Shropshire towns to travel to Shrewsbury because they don't tend to travel that much.
"I want to get out to tourism shows and other events across the country and attract more coaches to Shrewsbury. I am not expecting to achieve everything at once but at a minimum I want to get more visitors spending their money and supporting local businesses."
Passionate about our town
Beth continued: "I have a passion for Shrewsbury, as I think the town should be out there being yelled about. Businesses in Shrewsbury can expect to be encouraged by me to get involved in things and to become members. I want them to be talking to each other because you can't make things great by yourself.
"Hopefully, I can encourage more partnerships and get people doing things together. I will be out there on the streets knocking on doors and not just sitting back and waiting to see what happens."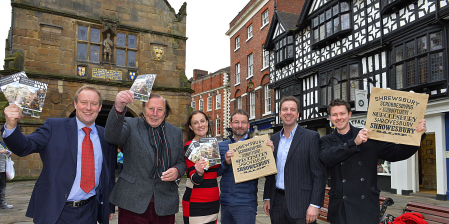 Pictured above: Beth Heath with Shrewsbury Tourism Association board members (from left) Edward Goddard, Dilwyn Jones and Edward Goddard and (front, from left) Nick Bevan and Michael Connor.
A director of fun
Describing herself as director of fun in her business, Shropshire Food Festivals, the Harper Adams University graduate employs two members of staff and only takes on projects that they will enjoy working on.
"I absolutely love my job," she said. "It's all about creating memories and the point of the business is to make people smile."
A new officer for tourism
STA chairman Michael Connor said the association was delighted to have appointed Beth as Shrewsbury tourism officer.
"A principal part of Beth's activities will to be to attract more visitors to Shrewsbury, to consider the level of service given to visitors and to generate real benefits to businesses within the town," he added.