Female British Motor-Cross Champion and Sport student continues her dominance in the sport
9th May 2014
... Comments
---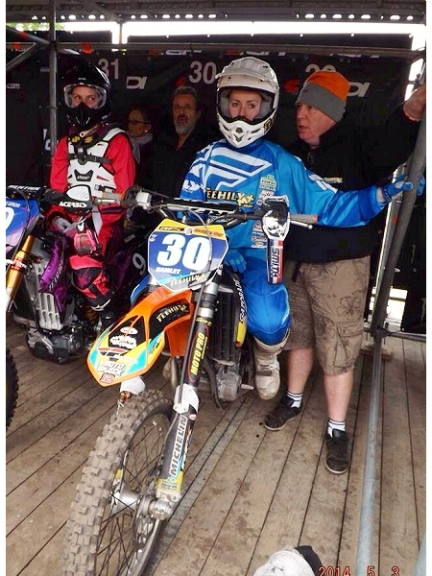 A Sport student from Shrewsbury College and British Motor Cross champion, has returned from a weekend in Vakenswaard, Holland, after taking part in the FIM Woman's World Championships.

FIM Motocross World Championship is the premier championship of motocross racing, organised by the Fédération Internationale de Motocyclisme (FIM).

Gabbi Hamlet, 19, from Shrewsbury, is studying the Extended Diploma Level 3 in Sport at Shrewsbury College and has been taking part in the sport with her father and brother since she was young. She won the 2013 British Championships enabling her to automatically qualify for the World Championship Series.

"I have always enjoyed a variety of sports, which is the main reason why I am studying Sport at Shrewsbury College, explained Gabbi. "I ride most weekends with my family at a local track in Condover. The sport can definitely be dangerous at times, which is partly why I enjoy it. Over the years I have broken many bones, so it is important to take the sport seriously."

Gabbi came 25th and 26th for the two races she rode, which saw 40 of the best female Motor Cross champions from across the world compete.

"I really enjoyed the Championships in Holland last week. The track was definitely rougher than any we have in England, so it was challenging, but great fun," Gabbi continued.

"I was one of just two British opponents racing this time round. Growing up, there weren't very many females taking dominant roles in the sport, and only in recent years have the FIM increased the number of women's races in the championships. Hopefully over time more women will take to the sport.

"I have been lucky enough to get to travel across the world taking part in a sport I have a passion for and I am going straight back in to training for the next World Championships in France at the end of this month," added Gabbi.

Sports lecturer, Andy Jones, said: "Gabbi is doing really well in her field. To be able to say she is the British Champion at 19 is absolutely fantastic. We really encourage our students to take part in sporting activities outside of their courses, whether that's organising, competing or coaching to improve their skills and get a taste of working in the industry outside of College. We wish Gabbi all the luck in the world."

The next FIM Women's World Championships will take place in St Jean d' Angely, France on Saturday May 31and Sunday, June 1.

For more information about Sport courses, including the new Foundation Degree in Coaching and Physical Education in conjunction with Staffordshire University please visit www.shrewsbury.ac.uk or call 01743 342333.