Falconry display sponsorship deal takes off for Shropshire caravan dealership
Award winning caravan, motorhome and campervan dealership Salop Leisure is reaching for the skies with its latest sponsorship deal.
The successful business, which has sales centres in Shrewsbury, Machynlleth and Stourport-on-Severn, has teamed up with Hawkeye Falconry UK, the leading falconry display team in the country.
Hawkeye Falconry
Hawkeye Falconry UK, which is based near Ludlow, organises around 400 around events a year and also runs a successful breeding programme, selling valuable falcons around the world.
Running since the 1980s, the business was bought by Alistair Leese five years ago. He now owns 60 display birds and multiple breeding birds, ranging from small owls to large eagles and employs three full-time staff to help with the business. Two more jobs are in the pipeline as the falcon breeding programme is set to expand.
Meeting the feathery stars
The sponsorship deal with Salop Leisure sees the company provide displays and bespoke events, where the public get a chance to meet and fly the birds close up, on caravan parks across Mid Wales and the borders. In return, Hawkeye Falconry promotes Salop Leisure during displays across the UK.
This year, displays have been held on 30 caravan parks. Next year's schedule looks like being even busier, with shows booked across the UK every weekend already, including for 20 weddings.
Displays finish in November and begin again in February, giving the birds time to recharge their batteries in their luxury aviaries.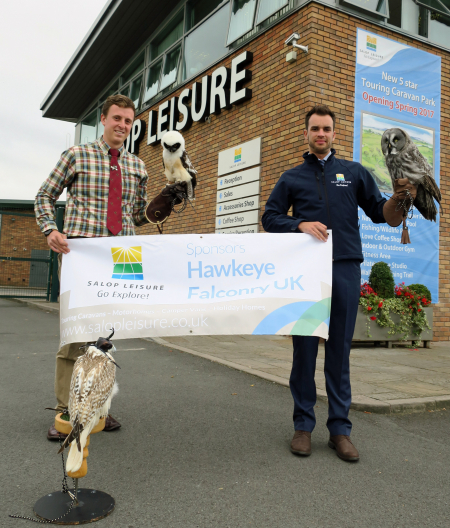 Pictured above: Alistair Leese (left) from Hawkeye Falconry UK with Salop Leisure's assistant marketing manager Ed Glover and two of the birds.
Passionate about birds
"When we started working with Salop Leisure, we gave them the opportunity to become one of our sponsors so that they could get exposure around the UK," said Alistair. "It's a nice way to say thank you because I really appreciate the company's support."
His passion for his birds is obvious and he insists that falcons from the breeding programme are sold only to reputable owners as he feels responsible for finding them good homes.
He first took an interest in hawks around the age of five through a family friend. "I owned a Harris Hawk at the age of 11 and my first falcon at 13 and I got hooked," he said.
"I have been flying peregrine falcons ever since. For me, they are the ultimate bird. I have picked up tips by getting to know falconers around the world."
Delighted to team up
Ed Glover, Salop Leisure's assistant marketing manager, said the company was delighted to be associated with the country's leading falconry display team, based in Shropshire.
"The relationship is mutually beneficial as Hawkeye Falconry entertains crowds across the UK, including many existing and potential caravan owners, whilst also promoting our brand to new markets," he added. "Their displays are stunning and give people an opportunity to have a memorable personal experience with the birds."