Eye-catching dragonfly sculpture causes a buzz at Shrewsbury Flower Show
A spectacular giant dragonfly sculpture has flown to its new home at the Shrewsbury headquarters of caravan, motorhome and campervan dealership Salop Leisure after wowing crowds at Shrewsbury Flower Show last weekend.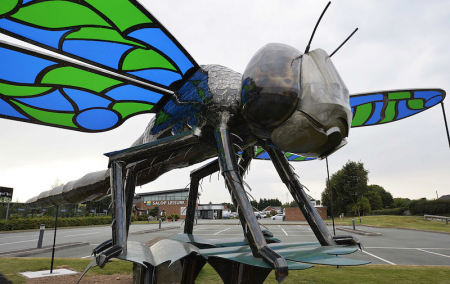 The colourful, eye-catching sculpture has been commissioned by Salop Leisure to mark the company's 50th birthday and welcomes visitors to the Emstrey base. Measuring 35 feet long, 13 feet high with a wing span of 35 feet, the dragonfly took creator Tony Peacock 1,100 hours to make at Shropshire Leisure Fabrications, Halfway House, near Shrewsbury.
It's the latest in a series of sculptures specially commissioned by Salop Leisure its headquarters and caravan parks in Mid Wales. Previous sculptures at Emstrey include Dewi the Dragon and an eagle, which have now flown to Min-y-Don and Castle View Holiday Parks in Harlech.
The sculptures have proved so popular in Shrewsbury that passing motorists and bus passenger have stopped to have photographs taken with them. Judging by the reaction at Shrewsbury Flower Show, where the giant dragonfly made its public debut on Friday, Salop Leisure can expect many more selfies in the weeks and months to come.
"The dragonfly is spectacular and there isn't anything quite like it in the country," said Salop Leisure's chairman Tony Bywater. "We chose a colourful dragonfly to make an impact and it also reflects the company's keen interest in nature and wildlife. 
"We have beautifully maintained grounds with a lake and wildflower area, which encourage all kinds of insects, birds and other wildlife, so a dragonfly was the obvious choice. The natural environment at our headquarters and on all the caravan parks that we own is very important to the company..
"These sculptures are a very worthwhile investment in works of art, which are appreciated by our customers."
Bill Hunt from Shropshire Leisure Fabrications said it had been the company's most ambitious and time consuming sculpture to date in terms of technical difficulty. The body was made from solid steel, the colourful wings were made from two layers of plastic and there are four support arms to keep the wings in place. 
"Tony Peacock was very enthusiastic from the start of this project and knew exactly how he was going to build it," he added. "We are very proud of what he has achieved. When we first saw it assembled, we were all overawed and crowds were soon gathering around when we delivered it to the flower show."