Exciting chance to win a brand new car as Budgen Motors sponsors Shrewsbury tennis tournament
Tennis fans have the chance to win a brand new car when the Budgen Motors GB Pro-Series men's tournament gets under way at The Shrewsbury Club this weekend.
Shropshire car dealers Budgen Motors, the new sponsors of the popular $25,000 event, have come up with an exciting competition, with the prize up for grabs a new Citroen C3.

Anyone who correctly guesses the winner of the tournament, together with how many aces and double faults will be served throughout the tournament, will receive the keys and drive away with a great prize.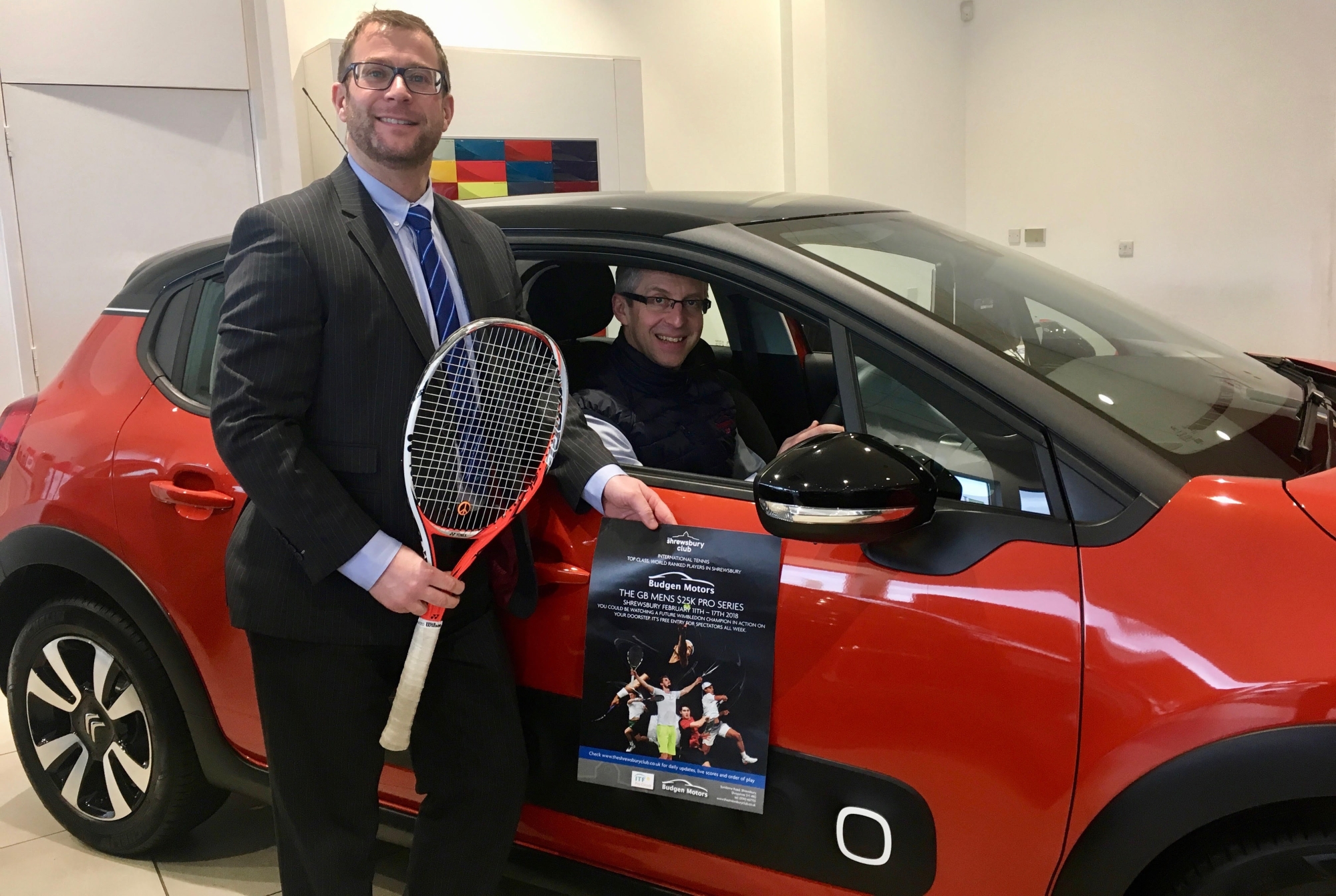 Pictured: Alvin Ward, the general manager of The Shrewsbury Club, behind the wheel of a Citroen C3 - the prize up for grabs if someone comes up with the right answers to the tennis-themed competition - and James Martin, the managing director of Budgen Motors. 
James Martin, the managing director of Budgen Motors, said: "We are delighted to be sponsoring the GB Pro-Series tournament and we thought this was a nice way to reach out to the local community to get them more involved.

"A bit of research or an educated guess could see one lucky winner driving away with a brand new Citroen C3, which is a great family car, very agile and beautifully designed."  

Alvin Ward, the general manager of The Shrewsbury Club, said: "It's a fantastic gesture from Budgen Motors and will just add to the level of interest surrounding the tournament.

"We are really pleased to have the support of Budgen Motors, a local company, and we look forward to sifting through all the entries to see if a lucky winner will be handed the keys to a new car at the end of the week."

The qualifying rounds for the International Tennis Federation event begin on the indoor courts at the Sundorne Road venue on Sunday morning. 

The main draw matches start next Tuesday, with the singles final to be held on Saturday, February 17. Admission will be free for spectators throughout the tournament.   

The draw for the round of 32 will take place at a civic reception, hosted by Budgen Motors at their Featherbed Lane showroom, next Monday at 6.30pm.

The matches will be drawn by pulling names of the players - who will be travelling to Shrewsbury from across Europe in search of victory and valuable ranking points - from the boot of a car. 

Shropshire tennis clubs will also be involved as county clubs will be paired with one of the 32 players in a separate draw. Should their partnered player win the tournament, the victorious club will receive £250.