Dalek greets visitors to auction house
31st March 2016
... Comments
---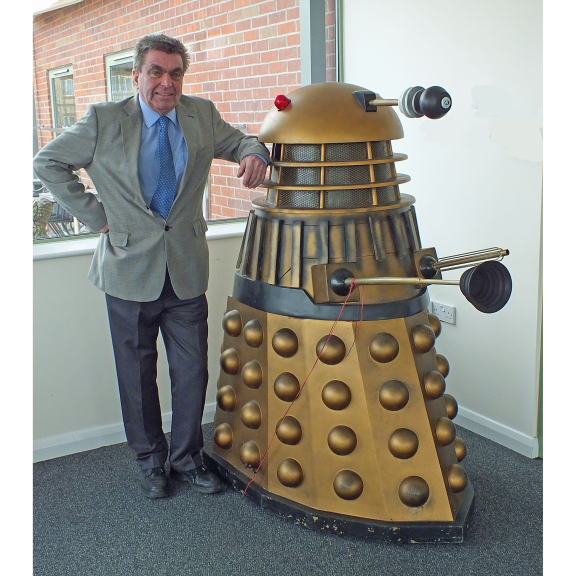 Leading regional fine art auction house Halls is welcoming an infamous alien enemy to their Shrewsbury headquarters… Now standing in the building's reception is a full-sized Dalek, the most notorious and terrifying villains on television from the long-running BBC series Doctor Who.
Visitors don't have to worry about being exterminated, however, as the Dalek is simply one item of a huge collection of Doctor Who memorabilia that has been consigned to Hall's next toys and collectable auction on Wednesday the 1st June.
The collection also includes many more Dalek models and a DVD merchandise stand resembling the Doctor's TARDIS. They all belong to a collector from Llandudno who is a huge fan of the series and has been collecting for over 20 years.
Stewart Orr, Halls' toys specialist, is starting to catalogue the impressive collection and hopes it will attract entries from other Doctor Who fans. He said: "Although some of the items date back to the 1960s, a lot of them are fairly modern. Nevertheless, there seems to be an enthusiastic collectors' market for Doctor Who memorabilia.
"The full-sized Dalek in reception has created a lot of interest already and we expect it to sell for between £500 and £800."
In Halls' latest toys auction last month, a clockwork Dalek standing at 13 centimeters tall, one of the first toys made associated with the popular BBC series in 1965, sold for £380. It was still in its original box, complete with accessories, key and working motor and was consigned by a Shrewsbury man who was given it as a child.
Picture captions: Mr Orr with the full-size Dalek.