Chinese delegation on fact-finding mission to Shropshire caravan dealership
16th October 2015
... Comments
---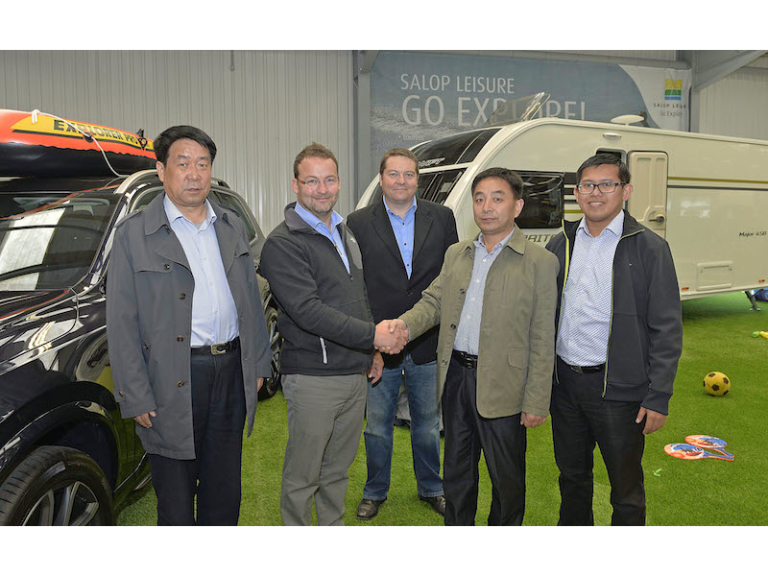 A delegation from a fledging industry in China paid a fact-finding visit to an award winning caravan and motorhome dealership in Shropshire this week to pick up some marketing tips.
The four-man delegation from the Chinese caravan and motorhome industry was recommended to visit Salop Leisure's Shrewsbury headquarters because of the company's successful track record as one of the top dealerships in the UK.
Included in the delegation were chief executive Chris Bolsover, vice general manager Lou Dou and sales director C. H. Chong from ARV and Zhang yang xun, chairman of the board, general manager and application researcher at China National Heavy Duty Truck Group. 
"We were delighted to welcome the delegation, which was looking to develop the market for caravans and motorhomes in China," said Salop Leisure's managing director Mark Bebb. "We spent the afternoon talking about the development of the industry in China and the history of our dealership.
"The company they work for, which makes trucks and motorhomes, is predominantly government owned and has a turnover of $32 billion. They live in what they described as a small coastal town, with a population of nine million! 
"It's an exciting industry with huge potential in China, as there are a lot of people with disposable income who want to escape from the cities and pollution of urban areas to rural destinations. 
"It was very interesting to talk to them about an industry at the start of its progression and to discuss marketing something that currently doesn't exist in China."