British trio battle their way through to last eight of Shrewsbury tournament
Promising Brit Laura Sainsbury insists she's looking forward to the challenge of facing fourth seed Petra Krejsova in the quarter finals of the $10,000 Aegon GB Pro-Series women's tournament at The Shrewsbury Club today.
Securing her place
Sainsbury booked her place in the last eight by overcoming French opponent Kelia Le Bihan in straight sets 6-2, 6-2 in yesterday's second round of the international tournament.
The 20-year-old from Bristol, who trains in Spain, is more than 500 places lower in the world rankings than Krejsova, from the Czech Republic, as she gets ready to meet a player currently enjoying an impressive run of form.
Krejsova, who beat British player Eden Richardson in three sets yesterday, was the winner of a $10K tournament in Sheffield last week and runner-up in a similar tournament in Loughborough a week earlier.
But Sainsbury, enjoying playing in Shrewsbury for the first time, said: "I'm looking forward to it. I think if I can stick with what I've been doing and, with all the right intentions, I think I've got a good chance. I've seen a little bit of how she plays and I'm looking forward to playing her.
"There's still big areas that I think I can work on from the last two matches, but I've done everything I wanted to do in terms of how I'm playing so I'm pleased with that."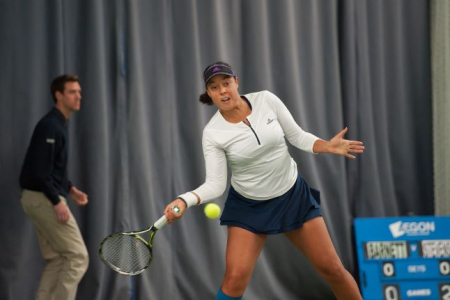 Pictured: American player Alexandra Stevenson in action during her second round victory at The Shrewsbury Club. Picture by Richard Dawson.
Back the Brits
Sainsbury is joined in today's last eight by fellow Brits Maia Lumsden and Sarah Beth Grey.
Lumsden, who knocked out Ella Taylor in straight sets, has been handed a quarter-final clash against No 1 seed Tess Sugnaux, with the Swiss player looking to repoduce the form she showed in beating Francesca Wilkes 6-4, 6-1 in round two.
Grey will take on experienced American Alexandra Stevenson. Grey progressed in the tournament after Helene Scholsen, seeded three, was forced to retire owing to an injury early in the second set after Grey had taken the opener while Stevenson was a 6-2, 6-4 victor against Alicia Barnett.
Scholsen's injury meant that she had to withdraw from the doubles along with partner Lea Tholey, so their scheduled opponents Shrewsbury's Lauren McMinn, partnered by Barnett, received a walkover to today's semi-finals where they will take on Aleksandra and Katarzyna Pitak.
Order of play
Today's other singles quarter final is between French player Emmanuelle Salas, who impressively got the better of No 2 seed Mariam Bolkvadze, from Georgia, in three sets, and Hong Kong's Ling Zhang, who had to dig deep to overcome British player Lauryn John-Baptiste in another match which went to three sets.
Today's quarter finals start at 11.30am with admission to The Shrewsbury Club free to spectators.