Boss of Shrewsbury caravan dealership speaks of 'great adventure' supporting Wales at Euro 2016
The joint managing director of a Shropshire and Mid Wales company has spoken of the "great adventure" following the history making Wales football team at Euro 2016.
Immense pride
Dylan Roberts from caravan, motorhome and campervan dealership Salop Leisure, which has sales centres in Shrewsbury, Machynlleth and Stourport-on-Severn, has cheered on Wales with his son, Tomos, at every game in France and will return for the semi-final against Portugal in Lyon on Wednesday night.
He has spoken of his immense pride in what the Wales team has achieved, their bond with Welsh fans, the fun and friendship between fans of all nationalities and the warm reception from French people wherever he has travelled.
From Wales to France in a camper van
Dylan and Tomos, who works for Greenhous Group in Shrewsbury, travelled out to France with friend Colin Ewart and his son Sion in a VW Combi van. Both families live in Bow Street, near Aberystwyth.
They have travelled by road, rail and air to the matches in Lille, Bordeaux, Toulouse, Lens, Paris and Lyon.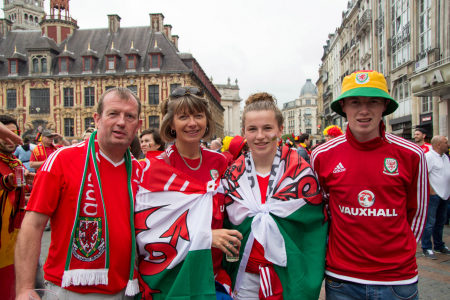 Above: Dylan Roberts pictured with wife Glesni and their children Tomos and Ffion in the square in Lille.
A family affair
For Wales' quarter-final victory against Belgium last Friday, Dylan was joined by his complete family, with wife Glesni, daughter Ffion and Tomos in Lille to cheer on their heroes in a historic night for Welsh football.
"The last time Wales qualified for the finals of a major championship was in 1958, which was before I was born," explained Dylan. "I felt Euro 2016 was an opportunity to follow the team, which has progressed and improved over the last few years, for the duration of the tournament. I vowed to go to every match if I possibly could."
Living the dream
Dylan continued: "My dream was for Wales to reach the quarter finals, but the team has surpassed that. Like manager Chris Coleman said, we are living the dream. At the matches, you can see the togetherness of the team and they work exceptionally hard for each other.
"Chris Coleman and his staff have done an amazing job in getting them to play as a team and they all know exactly what their roles are. To witness the reaction of the players and the crowd has been quite emotional and has filled me with pride."
Together stronger
Dylan said: "Never have truer words been spoken than the Wales Euro 2016 anthem 'Together Stronger' by the Manic Street Preachers. The singing and atmosphere created by the Welsh fans has surpassed anything I have previously experienced.
"It has been a great adventure. We have had great fun with fans of all nationalities whom we have met on the journey and the French hospitality has been great. We have all enjoyed a fantastic cultural experience."
Could Wales go all the way?
Looking forward to Wednesday's semi-final showdown with Portugal, Dylan said: "Although Portugal haven't been in good form so far, we shouldn't be complacent. If Wales play like they did against Russia and Belgium, we stand a good chance of reaching the final, which would be a phenomenal achievement."
Dylan has a ticket and accommodation booked for the final and hopes to be cheering on Wales in Paris on Sunday.