Booming caravan and motorhome sales fuelled by staycationing
Booming caravan and motorhome sales are being fueled by the growing popularity of staycationing, reports a leading dealership.
Salop Leisure attracted nearly 19,000 to its annual West Midlands Caravan and Motorhome Spring Show in Shrewsbury last month, which was 18 per cent up on last year and sales across the business increased by between 15 and 20 per cent.
It's not only caravan, motorhome and campervan sales that are booming. Sales in the Love Coffee restaurant and the caravan and camping accessories shop are also flying and the company's sister business, Love Plants has increased turnover by 30 per cent cent in the first five months of 2017.
The really positive news for bosses at Salop Leisure is that sales of caravans and motorhomes span customers of all ages, from young families to retired couples.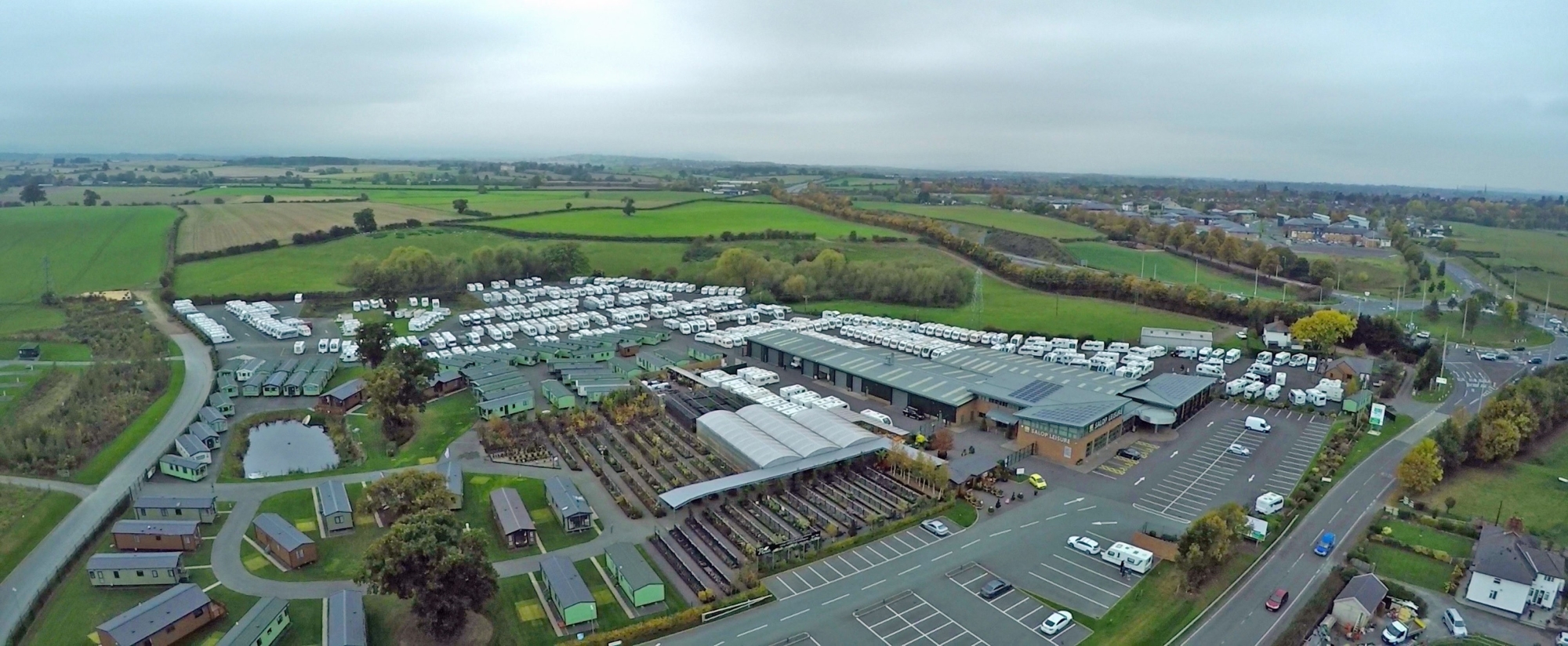 An aerial view of Salop Leisure's headquarters.

"We are attracting a mixture of existing owners and first time buyers, which is very pleasing," said chairman Tony Bywater. "The first-time buyers are mainly for touring caravans and motorhomes because they love the idea of staycationing.
"Some people still want to go abroad on holiday for a week or fortnight every year, but also want to make the most of their leisure time by owning a caravan holiday home, touring caravan, motorhome or campervan. 
"Whether they are working or retired, their leisure time is becoming more important to their health and wellbeing. That's why caravans and motorhomes are so popular: they offer the freedom to enjoy a break in different locations whether it's for a week or a couple of days.
"Owning a caravan or motorhome appeals to young people because they work long hours and want something enjoyable to do at weekends. As people get older and start families, they like to get away with their children for the weekend. 
"Caravans offer long-term value for money and perfect for people who enjoy golfing, walking, cycling, rock climbing or just chilling out and relaxing. Many families like to play football and cricket on the beach as it's a way of escaping to the fresh air from computers and i-pads which tend to dominate our lives."
Around 250 new and pre-owned touring caravans, static holiday homes and luxury lodges, motorhomes and campervan conversions were on display at the West Midlands Caravan and Motorhome Spring Show. Visitors were able to see the latest innovations in new holiday homes, touring caravans and motorhomes, with new models from Atlas, ABI, Carnaby, Willerby and Swift set be launched at the event. 
Representatives from 20 quality holiday holiday home parks across Mid Wales and the Heart of England attended the show to help first time buyers find the ideal location for their holiday home or luxury lodge.