Craig Rhosyfelin - Bluestone quarry
17th November 2015
... Comments
---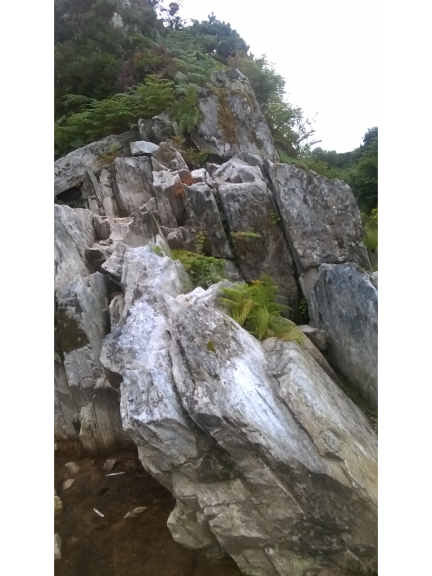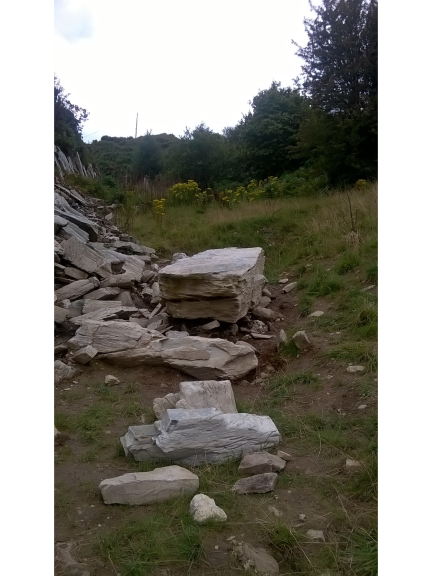 I was really priveliged this summer to have been given a tour of the rocky outcrop at Craig Rhosyfelin by the famous archaeologist Mike Parker Pearson. 
Having been brought up on the tradition of Carn Meini as the Bluestone quarry it was a special event to be shown around this recently confirmed Bluestone site at Craig Rhosyfelin.   Mike began his tour showing us the magnificent 4m long monolith which sits on an artificial platform of sediment and stones. I have attached an image of this large stone which has been just sitting there since Neolithic times.
Mike further amazed us by showing other stones in place on the site which would have been instrumental in moving the monoliths out of the quarry.  One stone was showing crush damage as if another monolith had been pulled across the top of it and other stones acting as supports for wooden beams to be laid for monoliths to be slid along.  It was hard to believe what I was seeing and hearing.
We were further shown early Mesolithic hearths which had been dated and indicated that there would have been a campsite at this location as early as 8000 BC.  So it becomes apparent that this site was used as a camp for Mesolithic hunters and gatherers as they followed the seasons and pursued their food long before the stones were chosen for Stonehenge.  It is probable that this site held great significance for Mesolithic man and as a gathering place of symbolic and spiritual meaning.
Finally, Mike revealed to us an area where there were 2 upright stones or orthostats which he suggested were pivot stones.  Then alongside he pointed to a recess in the stone face and suggested for us to look closer and to take a guess at what we were viewing.  It suddenly dawned upon me, the recess was a perfect shape from which a stone upright could have been quarried.  I looked at Mike and he confirmed, " yes, and do you know that we have found a stone at Stonehenge which matches up to the shape and dimensions of this recess in the stone face".  I just stood there in awe and was lost in my thoughts for a moment, just incredible.
Craig Rhosyfelin is located alongside a public right of way and it is possible to visit and to see the site for yourself.  Take a visit and lookout for some of the details I have mentioned above.  Further details on the site and location can be found at http://www.megalithic.co.uk/article.php?sid=28658.
If you need a professional tour guide to help you get the best out of your visit to Pembrokeshire, please give Andrew a ring on 07801579225.