This could be another romantic story about 2 people, meeting, falling in love, committing their lives to each other and starting a business they are both passionate about to live happily ever after etc etc.
Well, for Gene and David, it wasn't quite as simple as that! In fact if 'jumping through hoops' was a competitive Olympic event, I reckon they would both be gold medalists.
Now don't get me wrong - setting up their personal 'Massage Chair Service' business in Market Harborough was pretty straight forward. They astutely identified a 'need' and they're 'delivering it' -  with bells on, with ever growing success.
It was the 'how it came about' story that fascinated me.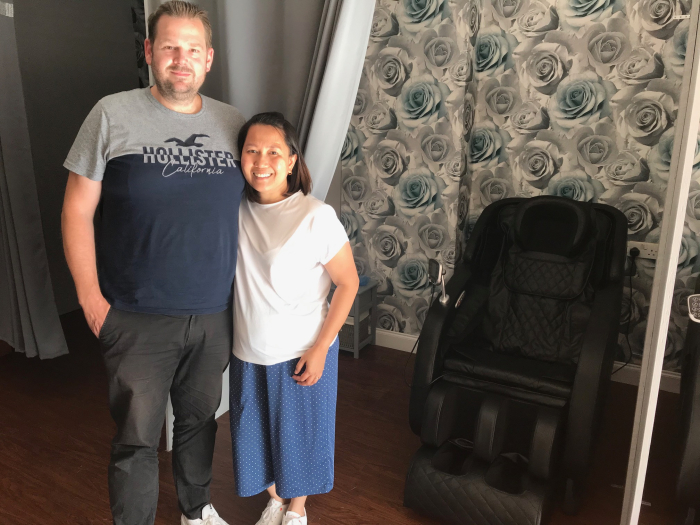 Intrigued!
Now in my experience, when a new business comes to town, like RELAX LOUNGE did on June 3rd, in Church Street, Market Harborough, the local community typically becomes intrigued. We want to know, not only what the business is about, but we want to know about the people behind the business too - eg. Who are they? Are they locals? Do I know them? etc... Why? - because we're all nosey!
So, as they are well deserving members on The Bestof Market Harborough, I asked Gene and David to reveal all - with all the juicy bits left in!
Well, I wasn't really ready for what they told me next and if you/I had the time, I could easily fill a few pages on their very unusual life experiences up to now - and that's before their RELAX LOUNGE massage chair salon business was ever thought of!
But, I'll give you the 'short version' of their story:
Gene (Genevieve) is from the Philippines and having worked as a trained nurse in Saudi Arabia for 4 years, she returned to her home country in 2018 where she 'met' David who was there on holiday, via an online dating site. 
David (from the UK) had just endured a particularly nasty date scamming experience and so understandably, was a little more cautious about being 'caught again'. But (remember it's the short version), David and Gene were very soon smitten with each other, and although they'd still not actually met in person, declared their true feelings and were prepared to commit their lives to each other! So, as one does, they arranged a holiday together. Arrhh!
Well, David's scammer (remember her? - keep up!), was not having any of that and perhaps recognising her loss, tried her best to 'stop' the unfolding romance, which resulted in David being held at the immigration offices of Manila airport for 'days' - (I could expand, bit this is still the short version!).
Anyway, nothing (and especially the fiendish scamming lady) was going to stop the new romance and David and Gene eventually spent 2 lovely weeks together in Singapore. When I say 'lovely', perhaps I won't mention the bit about David getting a vicious bout of seafood poisoning during this time as that too would extend the story into the long version!
So the holiday was a romantic success and the now carefree couple planned a wedding and a life together in the UK, together with David's young children.
The wedding took place at St  Dionysius Church in Market Harborough on 13th April 2019 -  and Gene had no trouble finding work soon after in the care industry.  But of course, they wanted to work at something together and Gene had the perfect business idea.
---
 Gene had been surprised to quickly discover that most Brits had apparently still not discovered the power and health benefits of regular 'relaxation' and in particular 'Massage' therapy.
---
In the Philippines and many other Asian countries, she says you're unlikely to walk down a street without easily finding massage services, because it's 'a way of life' - of which the proven health benefits were discovered centuries ago. It's common practice to 'take a regular massage' as part of your working day to (amongst several other benefits):
reduce muscle tension, 
increase joint mobility, 
reset the mind, and 
relieve general stress.

The Covid Curveball:
The stage was set to start a business, but as every business owner knows, no matter how carefully you plan for all eventualities, the fan is always going to be hit! And in March 2020, Covid happened!
But, the health benefits of massage were now even more defined and the perfect opportunity to provide a safe 'no personal contact' therapy service with highly sophisticated massage chairs was born.
David and Gene were given the keys to their business premises in Church Street, Market Harborough in April 2021, and David, a motor mechanic and engineer by trade, found himself skillfully creating a covid safe and relaxing environment to house multiple massage chair private cubicles. It was all looking great and everyone was getting excited - all they needed was the massage chairs to arrive and they could 'open' their new business.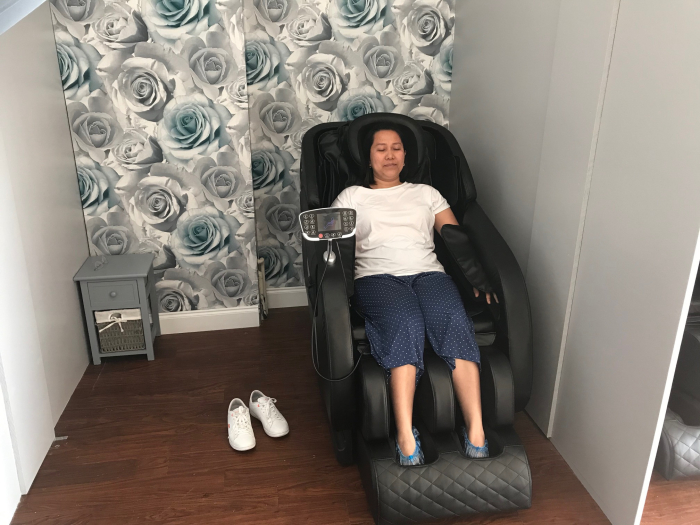 Another Curveball? - Surely not!
The next curveball was difficult to imagine. Do you remember reading about a little Egyptian boat with a cargo of multiple containers getting stuck across the width of the Suez Canal for 6 days in March this year?
Well, you guessed it - one of the containers had a shipment of massage chairs for an address in Market Harborough, UK!
So, (short story still), the massage chairs finally arrived and RELAX LOUNGE opened up, albeit a little later than planned, in late June.
With Gene's and David's experience coupled with their knowledge, belief and enthusiasm to provide this well known form of health therapy, it's not surprising they are already attracting scores of new delighted customers. But they also know they have a job to do 'educating' the Brits to adopt this regular cultural habit that is proven to have such an impact on people's health and well being.
And that could be the next curveball to challenge them, but somehow with everything else they've been through and mastered, I don't think they'll even notice it!
Find out more about THE RELAX LOUNGE massage chair services here, or better still, why not go along to their salon in Church Street and ask for information. Then, with a choice of programmes and services to suit you, give it a try!
From my own personal experience, I know you're going to feel better already! 

Simon - The Bestof Market Harborough
---
The Relax Lounge
8b Church Street
Market Harborough
LE16 7AA
t: 07765 915570

fb: facebook.com/relaxloungemarketharborough