So What Makes 'The George at Ashley' So Special?
A couple of months ago, I was excited to announce a new trusted member of The Bestof Market Harborough - The George at Ashley, a great little pub in the heart of the quaint village of Ashley, just 5 miles outside Market Harborough.
I was 'excited' because this character family run pub, in my opinion, represents near enough everything that a community village pub should offer - great location, a friendly landlord, a good range of quality beers, wines and spirits, quality home cooked food options at fair prices, and all served in very pleasant surroundings.
But a pub, (for me) can only stand out as 'special' if we, (the customers) are made to feel 'special' and if it's run and managed by people who have a natural connection and genuine friendly empathy with its customers. And we all know that can be hard to find these days!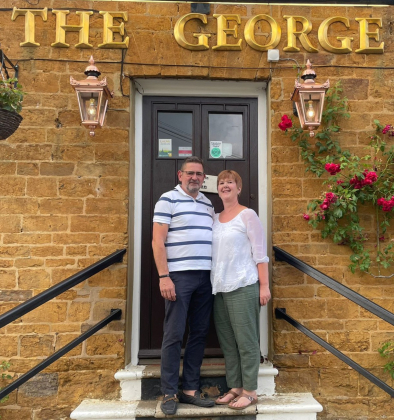 The George's owners, Steph and Neil Price took over the pub and adjoining accommodation back in August 2020, when the country was still enduring the bite of the Covid pandemic. But in spite of that, over the last 2 years, they have built a glowing reputation as endorsed by currently more than 350 highly complimentary customer reviews, (you can read them here!) as displayed on Google, Trip Advisor, Facebook, and other recognised platforms. So, when I caught up with Steph and Neil recently, I asked them how they've achieved this accolade in such a short time.
They said it helps that both have wide experience and first hand knowledge of the service industry. They were already used to communicating with customers in a sociable and relaxed atmosphere, where they could truly understand their customers' wishes.
They also knew that 'they wanted the kind of business that they'd like to go to themselves'! -  that is an inviting environment with a friendly welcoming atmosphere, caring & attentive service, quality locally sourced products and above all, somewhere that offered 'good value for money'. And they knew that they would be 'hands on' in their business, getting to know their customers - after all, how else can you be an attentive landlord?
So when they finally got the keys to The George, they set out from the start to create that exact environment for both the local Ashley villagers and hopefully to attract customers from further afield.
It certainly helped that they were able to offer 6 brilliant en-suite letting rooms in the adjacent converted coach house and having employed excellent kitchen and bar staff, they were confident they would be able to give their customers the welcome they deserved and make sure they always had a good experience.
At The George, you'll enjoy great home cooked food to suit all tastes and diets, served in their cosy restaurant. The menu changes every five weeks to maintain variety and is in keeping with the seasons.
And so, two years in and according to the mass of reviews, I'd say their philosophy seems to be working out very well!
The special theme nights, live music nights, quiz nights, special occasion evenings, and of course the 'happy hour' promotion have all added to the pub's social calendar and it's clear that customers, owners, and staff are all enjoying the ride!
See our full feature page on thebestof Market Harborough here

Simon Perry -  The Bestof Market Harborough
The George at Ashley
21 Main Street
Ashley
Leicestershire
LE16 8HF
Tel: 01858 565900
Web: www.thegeorgeatashley.com