Our Award Winning Team at Enigma!
6th March 2019
... Comments
---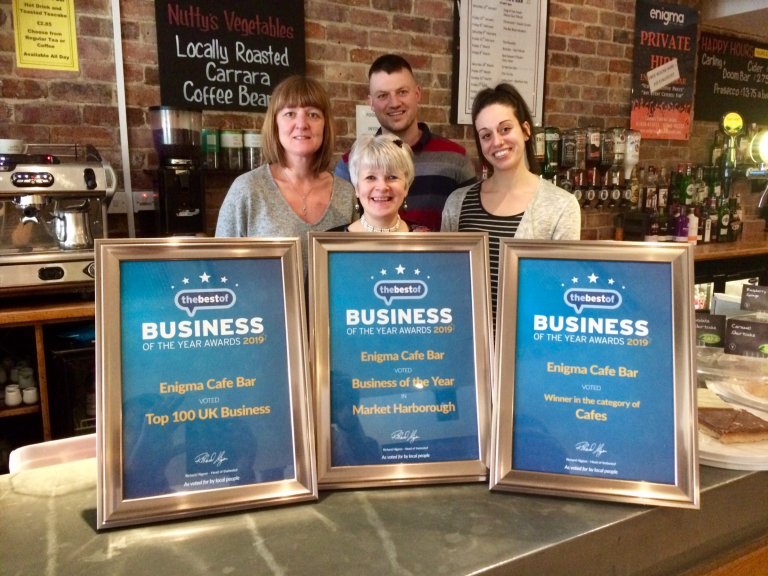 For the second year running, ENIGMA CAFE BAR in Coventry Road, Market Harborough is our runaway winner in The Bestof's local Business Of The Year Awards 2018/19, and this week I was proud to present no less than 3 x certificates to Tom Munday and members of his staff in recognition of their achievement.
We are always proud to recognise local award winners in business and 2018 was no exception.

The Bestof 'Business Of The Year Awards' are presented every February for the previous year. Awards are achieved by qualifying independent businesses accumulating verified positive written or online reviews from their customers throughout the year, judging:
quality of product,
quality of service,
environment and..
overall customer experience.

Awards are given by business category both nationally and by local towns throughout the UK.

The picture above shows Tom with loyal staff members Tina, Cheryl and Mimi behind 3 certificates of achievement representing awards for:

1. Overall Winning Business in Market Harborough
2. Overall Winning Business Nationally in the Cafe Category
3. Recognised in the Top 100 Businesses nationally across all categories.

ENIGMA is popular for its all day service starting with an amazing value full English breakfast offering 2 for a combined price of just £8.95. The relaxing environment is ideal for meeting friends for morning coffee, or lunch with plenty of choices and licensed bar offering seasonal dishes and drinks to suit all tastes and diets, and including some tasty authentic Thai dishes. One common review comment was 'fantastic value for money' which is not surprising when you can get 2 x delicious lunches for just £12.
And then of course you can have Afternoon Tea - with tempting top range cakes to mess with your diet, but who really cares when you are enjoying yourself with good company!

The Dinner menu (served on Thursdays, Fridays and Saturdays) offers choices of popular British dishes, American diner legends and of course signature Thai dishes all at very affordable prices.

Most weekends throughout the year feature at least one quality live music performance on a Friday or Saturday night offering varied genres of music to bring a great atmosphere and a brilliant night out.

But as the majority of the reviews confirm, this highly popular and successful business is due largely to the friendly nature and ever obliging staff who go out of their way to ensure complete customer satisfaction - always a winning formula and an enviable asset for any business.

So congratulations from all at team 'Bestof' - well done ENIGMA and may your success continue for many years to come.


Simon - thebestof Market Harborough.

You can find out more about Enigma by clicking here
or by calling: 01858 433933