Vote For Your Favourite 'Business Of The Year 2018'

At this time of year, we at The Bestof like to promote our annual BUSINESS OF THE YEAR AWARDS , as voted by you, our local community.
Leaving a review of your favourite Best of Market Harborough independent business has been something we've encouraged for years! Well now we've made it even easier, and you could win £100 worth of goodies!

We always love to hear of your customer experience at your favourite businesses by way of your written reviews, but for the next 2 months in particular, your 'vote' (review) is even more important as it will support that trader's' claim to be crowned local 'Business of The Year 2018'.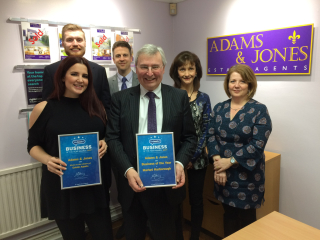 2017 Winners - Adams And Jones Estate Agents
Let me explain (reasonably briefly!)
When we (or the business you are visiting) invite you to 'leave a review', you will be giving 'one vote' (assuming it's a positive one) for that business towards their competing total.

3 Ways To Leave A Review:
You can leave your review in one of 3 ways -
1. online here right now, or:
2. on your favourite business' facebook page (see their 'Our Reviews' tab), or:
3. in person by filling out a testimonial/review card (like in the image below).
We ask you to express your 'customer experience' by taking a few moments to write a couple of sentences.
IF USING THE CARD METHOD, we'll need you to 'verify' that your review is genuine by following this very simple procedure.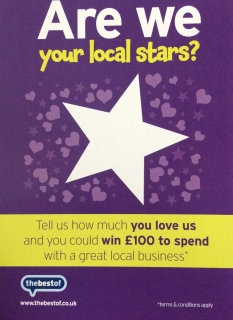 We ask you to either leave your mobile number on the card and then to TEXT "VALIDATE" to 07842 269194 (the number's on the card) from the same mobile number, and/or leave your email address so we can send you a quick confirmation email. As long as you open the email, your review will be automatically verified to be genuine. You only have to do this the first time you leave a review!
Don't worry, we'll NEVER use your email or mobile number for any marketing campaigns without your permission as stated in our strict Privacy commitment.
And, you will automatically be entered into the monthly prize draws to win £100 - just to say thank you!
So, look out for our blue review cards, and please take a minute to leave your comments either on the card, on the link or on their facebook page and support our brilliant local businesses and our awards campaign. Your 'vote' could be very important and will be much appreciated.
Thank you and have a great week.
Simon
The Bestof Market Harborough