How 'Giving Blood' Changed Fran's Outlook in Market Harborough
28th October 2015
... Comments
---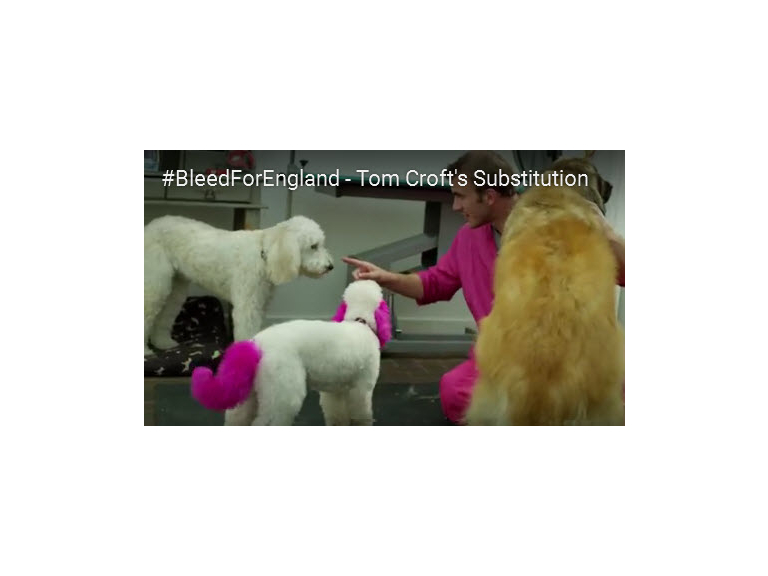 When a certain agency contacted Fran Cheshire of Grrs2Purrs Dog grooming in Market Harborough, saying they wanted to make a promotional video on behalf of the NHS at her premises, Fran thought they were 'having a laugh' and so she checked the date on her calendar.
But no, it wasn't April 1st, and as it turned out, it was the beginning of a very complimentary adventure as you are about to find out.

It appears that Fran and her Grrs Dog Grooming business had been chosen by the (unnamed) agency after it was recommended for "its great service reputation, the salon and pet accessories shop set up and its quite unique interaction with canine customers, and of course their owners!"

A 'mystery shopping' visit apparently followed to assess its suitability in line with their proposed new campaign, and as a result the venue was chosen.

The agency's project was to make a new video to pursuade the public to give blood - at a time to coincide with the beginning of the Rugby World Cup with the strapline 'Bleed for England'.

About 3 weeks after the initial contact, a high profile sports celebrity (watch the video!), came to 'substitute' for an employee for 1 hour so she could give blood. Along with film crew and 'the set', he turned up to film their message over a 7 hour fun shoot, interacting with staff and dogs, which was then duly edited to make the required 1 min 43 sec. final cut!

Well we all know that it wasn't to be England's finest hour on the rugby field, but with the help of a top England player, the video with its hard hitting message was created and sent out accross the nation to great effect.

You can see the resulting video on the Grrs2Purrs feature page here.

But it wasn't just the video that impressed Fran. She found the whole experience really inspiring and the following day, she went to give blood for the first time - no mean feat considering her previous anxiety and needle phoebia, but she was relieved to say that the process was actually very easy and satisfying, so much so that she will become a regular donor and would now encourage everyone to do the same.

If you'd like to find out more about the story with the video and details of how to give blood, click here.
Alternatively, 'like' Fran's Grrs2Purrs facebook page here and catch up on what has happened since!